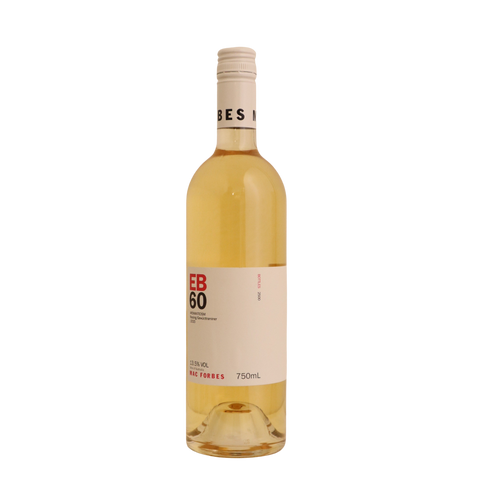 2020 Mac Forbes "EB60" White Blend, Yarra Valley, Australia
Co-fermented in concrete and matured in small old oak, this 60/40 Riesling/Gewürz blend has enough phenolics to satisfy those who love a skinsy white, and plenty of perfume to please the more classic palate.
ABOUT THIS WINE
Here's a lively little white blend from Mac Forbes.
It's the first time Mac has tinkered with aromatic varieties from the Yarra Valley. It's a blend of Riesling and Gewurztraminer that spent a little time old oak. There's a little tannin here from a little time on skins giving just enough texture and structure to get the amber wine lovers fired up, but aromatically it's more straight down the line showing the full flowery spectrum that Gewurztraminer is famous for.
It's a snappy little number that's begging to be drunk over the warm weather in coming months.
ABOUT THIS PRODUCER
If you love premium and artisanal Australian wine, Mac Forbes is a name you need to know. He's not only one of the country's most talented winemakers, but he's one of the most influential spokesmen for promoting the concept of Australian 'terroir', believing that wine should represent a time and a place.
Mac specialises in single vineyard Pinot Noir, Chardonnay and Cabernet from the Yarra Valley. His wines are delicate and finely etched, characterized by subtlety and grace.
His Pinot Noirs are fine-boned, Chardonnays are loved by those who look for fruit purity rather than winemaking artifice in the variety, his array of off-dry Rieslings from the Strathboogie Ranges are some of the country's most unique.
And his ever-expanding range of experimental wines is a treasure-trove for the curious drinker.