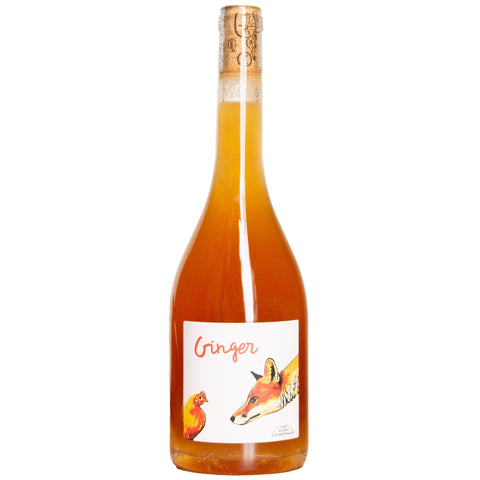 2021 Mas Théo "Ginger" VDF, Rhone Valley, France
Peachy on the nose, with underripe peaches and oranges on the palate. A salty and dry wine with well incorporated tannins.
ABOUT THIS WINE
Vinification like the reds gives the wine a characteristic orange hue and aromas between bitterness, fine tannins and fruit.
Ginger: the hair color or the vegetable, fits well with the spirit of this wine.
This orange wine will go well with a Bresse chicken with morel sauce or a very chocolatey dessert …
ABOUT THIS PRODUCER
Laurent took over his family farm in 1999 with 33ha of vines, 23ha of meadow and 16ha of lavender. He decided right away to farm organically and got his certification in 2004. His passion for wine led him to create his own winery, and this is how Mas Théo was born in 2005.

Clapier's winemaking roots begin with his great-grandfather, Gabriel Théolas, who was a colorful figure in the village, so much so that the elders named his own vineyards Mas Théolas, now just Mas Théo. Gabriel also left at least two other recognizable marks on the Mas Théo wines of today: one wine bears his nickname, P'tit Gaby, and his 1908 Mogul tractor is proudly displayed in the winery.

Upon launching Mas Théo, Laurent began to branch out beyond the organic certification and tried some biodynamic practices. He saw a real impact with the holistic approach. There was more life and energy in the vineyard upon introducing biodynamics, and now Laurent has entirely adopted this philosophy. Mas Théo got its biodynamic certification (Demeter) in 2011. The winery is also a perfect fit for this approach. Laurent was lucky enough to take over an old quarry cave called "les caves cathedrals" located in the village of Saint-Restitut. This unique cellar is dug into thick-walled, chalky rock—a perfect environment for the aging process. The temperature is constant all year-round and gives a perfectly smooth cocoon for his slumbering wines.

Mas Théo farms with a deep respect for his land and the soil's life, so one is not surprised to learn that the wines are finished with no additives at all, except for a touch of sulfites before bottling. The style of Laurent is to preserve the fruit of the must without aggressive extraction, just by finding the right balance. It took 13 years to come to the US market, and there are so many things coming together for a very promising future.