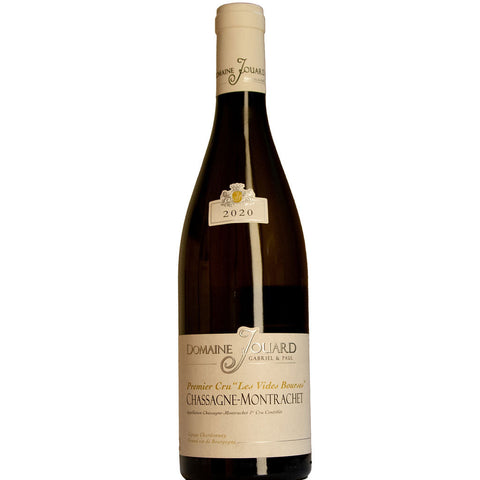 2020 Paul Jouard Chassagne-Montrachet 1er Cru "Vide Bourses", Burgundy, France
Complex even in youth with layered vanilla, acacia, litchi, and cream. Powerful, but retains a sense of elegance.
ABOUT THIS WINE
Vides Bourses translates as "Empty Pocketbooks". It is a small vineyard located just below the Grand Cru Batard Montrachet, along a little lane that was traveled by monks in the Middle Ages. It is here where bandits would often wait unseen, and rob the monks as they passed over the slight rise between Puligny and Chassagne. Today, the wines from this plot are among the best. The Vides Bourses is simply better than many Grand Cru wines, but at a Premier Cru price.
Vine age averages 45 years. 50% of oak used for aging is new. This wine has an aging potential of 5 - 12 years.
ABOUT THIS PRODUCER
Paul Jouard is the 7th generation winemaker in this storied family. He has been making the family wines since 1992. He is a throwback to the Burgundy winemakers of old. When we visited him last March, he was late for the rendez-vous because he was trying to maximize his time pruning the vines in the vineyards. Paul enjoys the solitary life in the vineyards. He says it gives him a lot of time to think clearly so he can concentrate on the other aspects of winemaking when he is in his cellars.

Paul has a state-of-the-art cuverie and cellar, but he says technology cannot make good wine. What technology allows him to do is to better organize his work so that he can maximize the flavors that are given by the grapes and the terroir. So, instead of changing the juice and stamping it with his winemaking technique, Paul gives the grapes and the soil every possible opportunity to express themselves to their fullest.

Paul harvests all of his grapes by hand. He uses an innovative conveyer system to fill and empty his tanks of red wines. This eliminates the need to pump the wines so much. That way, the wines retain more fruitiness and liveliness. For his red wines, Paul likes a long maceration and fermentation process in order to get the fullness of flavors out of the Pinot Noir grapes.