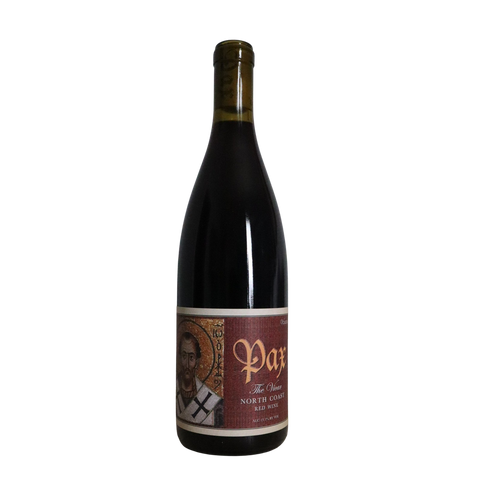 2020 Pax "The Vicar", North Coast, California, USA
Exotic aromas of white flowers, blood orange, forest floor, spicy tree bark and tiny red berries. The palate is medium-full and supple with energetic clean berry fruit flavors that define this wine. There is an intriguing wildness centered around an earthy complexity found in only the best Mourvedre wines in the world, which adds a tannic structure to this delicious blend.
There are 12 units left in stock.
ABOUT THIS WINE
55% Grenache, 45% Mourvedre. Grenache sourced from Alder Springs Vineyard (Mendocino County), Mourvedre sourced from the famed Bedrock Vineyard (Sonoma Valley AVA). 100% whole cluster fermentation. Èlevage in 50% neutral French Oak puncheons and 50% concrete.

ABOUT THIS PRODUCER
Pax Wine Cellars is focusing on the production of premium vineyard-designated Syrah based wines from the North Coast of California. We hope to eventually add a Grenache based wine, and a Northern Rhone inspired white wine. Quality is key and sourcing exceptional sources for these two wines is paramount. Our Mission Statement is simply stated; "To produce reference point Syrah based wines that are indicative of where they are grown". We are not trying to replicate any other Syrah produced in the world; Hermitage can only be made from one place. Our intent is to create unique wines with strong personalities of where they are grown. We believe that the cooler climates along the northern coast of California have the potential to produce world-class Syrah, and that is our goal. We utilize traditional winemaking techniques; it is a style of winemaking that is really without a style. The uniqueness of the growing sites for each of these vineyards should give the wine its personality; it is our job to encourage that personality to shine through. We feel the best way to accomplish this is by utilizing Indigenous fermentations, minimal handling, unobtrusive use of the finest French oak and bottling without filtering or fining. This approach to winemaking is very pure and unadulterated; therefore the wines will typically vary in color, alcohol, pH and most other characteristics that determine any given winery's 'style'. Each of our wines is the purest expression of that vineyards fruit that we are able to capture in the bottle. This is the reason that sourcing vineyards of exception or at least vineyards that have 'something to say' is the single most important thing that we can do to guarantee our success. We spend, as much time in our vineyards as we can. It is simply the only way. We lease our parcels by the acre or row when necessary, and we encourage organic farming practices. Low yields are a rule and each vine is cared for individually.