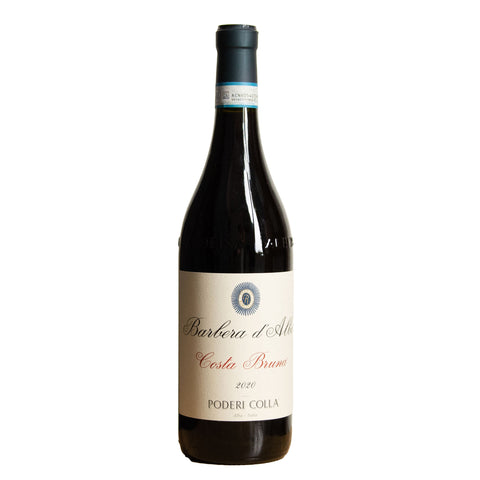 2020 Poderi Colla Barbera d'Alba "Costa Bruna", Piedmont, Italy
Purplish red, vinous and complex bouquet of strawberries and cherries, floral and spicy. Full-bodied in the mouth, fresh acidity, pleasant both in the first years and when mature. A wine for the whole meal, it perfectly matches pasta, soups and pies, excellent in the kitchen for the preparation of sauces and meat stews.
There are 13 units left in stock.
ABOUT THIS WINE
Costa Bruna expresses all the fresh and drinkable features of Barbera at its best, together with the elegance of the marly soil of Langhe. When the Colla family met the Costa Bruna vineyard, it was almost by chance. It was when the family purchased the Cru Roncaglie in Barbaresco. Colla family discovered a treasure placed exactly inside another treasure: 2 HA of Barbera that was at least 90 years old.
Manual harvest, destemming, crushing, maceration with the skins for 10/12 days at 28°/30°, full malolactic fermentation before winter. Maturation in oak barrels for approximately one year.
ABOUT THIS PRODUCER
The Colla family has been a winemaking family in the Langhe since the beginning of the 18th century but despite their long history, Poderi Colla is one of the newest estates in the region. It was started in 1994 by Tino Colla and his niece, Frederica (the daughter of the legendary winemaker Beppe Colla of Prunotto fame).

Beppe Colla bought Prunotto in 1956 and made his first single vineyard wines in 1961. He was one of the first winemakers to focus on bottling single vineyard wines across his entire range. Beppe's calling card became his Barolo Bussia and it remained his favorite vineyard until he sold Prunotto in 1990.

What is now Poderi Colla is the product of thirty years of experience from owning Prunotto and vinifying nearly all the great vineyards of Barolo and Barbaresco. Beppe, Frederica, and Tino used their intimate understanding of vineyards throughout the region to buy three specific estates. Those three estates now comprise Poderi Colla.