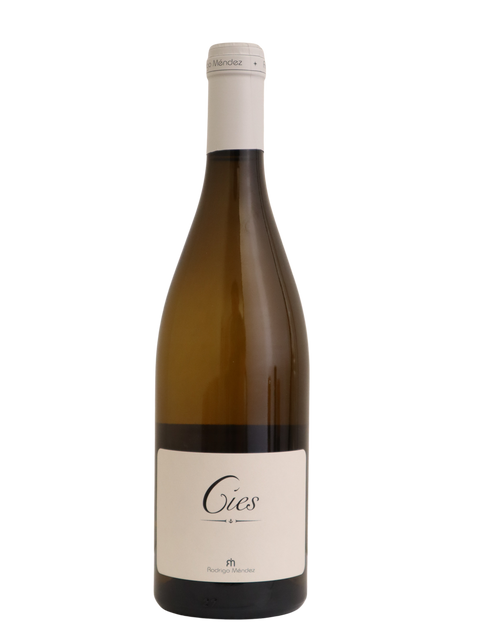 2022 Rodrigo Mendez "Cies" Albariño, Rias Baixas, Spain
Pale gold in color with vibrant, mineral-accented aromas of orange, pear and honeysuckle, along with a spicy top note that gains strength as the wine opens up. Lively and sharply focused on the palate, offering intense citrus and orchard fruit flavors underscored by chalky minerality. Finishes dry, nervy and impressively long, leaving resonating orange zest and floral qualities behind.
There are 1 units left in stock.
ABOUT THIS WINE
Cíes is one of winemaker Rodrigo Mendez's smallest production wines, it reflects a historical approach to Albariño from the Salnés zone, where his family has produced wine for 5 generations in and around the village of Meaño. Cíes is fermented with its own indigenous yeast and then partially aged in old wooden vessels without controlling the temperature—this was the way all Albariño wines were made prior to the 1980s, when stainless steel technology became prevalent in the area.
Cies is produced from grapes grown in three vineyards: two high on the slopes and one low in the valley floor. All three vineyards are located in Meaño, within the Val do Salnes subzone of DO Rías Baixas. Of the three vineyards farmed to make Cies, there are predominantly two soil types, 75% granite and 25% dark soil. The landscape is low undulating hills and the vineyards are planted on the slopes and on the flat valley floors. This area's climatic conditions give this wine an "Atlantic" character, like the sea.
The vines for this wine date back to 1954. Half the wine is oak-aged for 12 months and the other half is aged in stainless steel tanks. The portion aged in oak goes through ageing (elevage) in two large 2,000 liter barrels. This wine does not undergo malolactic fermentation.
ABOUT THIS PRODUCER
Rodrigo Méndez of Bodegas Forjas del Salnés is the fifth generation of a legendary Galician family known for crafting quality wines for over three centuries. Today, Rodri (as he is known locally) is considered one of the greatest and most prolific Albariño producers in the world, making at least 18 different bottlings at his small winery established in the cradle of the Albariño grape itself: the Val do Salnés. This historic area is the most coastal subzone in the Rías Baixas winegrowing region, an appellation that was established by Rodri's late grandfather, Francisco Méndez, in 1988, who was a blacksmith by trade as well as a winemaker. The name of Rodri's winery (forjas means "forges") is a nod to this other family specialty. 
A firm believer in the power of simplicity, Rodri is dedicated to allowing his wines to tell their own origin stories. Since founding his winery in 2005, he has learned that by releasing control over the winemaking process, his wines can truly communicate where they come from, especially regarding their soils. With experience and practice, he has "lost the fear" of intense, high-acid Albariño—less aromatic and fruity than the popular styles—because his goal as a winemaker is to make wines that can age elegantly, and which never disguise their terroir with showy aromas.