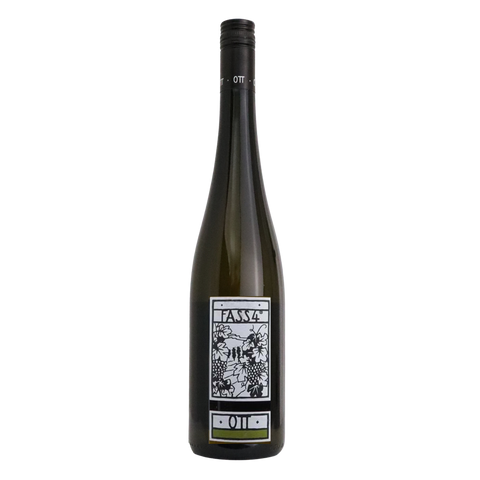 2021 Bernhard Ott Gruner Veltliner "Fass 4", Wagram, Austria
Subtle citrus pith mixes with salty yeast on the shy nose. The palate then presents a mix of bright lemon peel and pith, salt, yeast and crushed arugula in a surprisingly slender but concentrated package. The finish is savory and dry.
ABOUT THIS WINE
Fass 4 is a phenomenal introduction to the estate wines of Bernhard Ott. Named for the fass (barrel) that was selected every year by a customer of Bernhard's father, this is meant to be a consistent, benchmark wine for the domain.
ABOUT THIS PRODUCER
The Ott family has been growing and producing wine in the region of Wagram in Lower Austria since 1889. Bernhard Ott is of the fourth generation and has managed the winery since 1993 when he took the helm from his father. When he came home to the winery as a 21-year-old, he was interested in producing wines of the highest quality. Bernhard wanted to prove that elegant and long-lived wines could be produced from Grüner Veltliner grown on loess soil, specifically from Rosenberg vineyard. Bernhard replaced the old wooden casks with stainless steel and began working the vineyards with an aim for the highest high quality. In 2018, nearly 30 years after taking over and switching all vinification and élevage to steel, Bernhard began working with varying sizes of Stockinger fuders.
In 2004 Bernhard began composting, using organic cow manure from a friend in the region. In the past four years, he's used so much manure that the EU contacted him; "they didn't think it was possible to use 100,000 Euros worth of manure – they thought there was some accounting mistake. In 2006 he took a trip to the legendary biodynamic property Domaine La Romanée Conti in Vosne, with his best friend, Hans Reisetbauer. There, after a marathon tasting in the cellars with Aubert de Villaine, Bernhard committed to move to biodynamic viticulture. In 2007, with Johannes Hirsch, Fred Loimer, and a group of like-minded producers, Respekt was formed. In 2014, after a very difficult harvest in which Bernhard didn't bottle any single vineyard wines, he decided to work whole cluster saying "the stem is part of the grape. If you work without stems, you get more sweetness, more round fruit."
Today, Bernhard is looking back to previous generations for inspiration and to inform both his work in the vineyard and in the cellar. Grapes are picked at full ripeness, but thanks to biodynamic farming and composting, the sugar ripeness stays very moderate. "The compost helps with water regulation. Healthy soils give water when the weather is dry and take it back when there is too much. This also means no irrigation at all." says Bernhard. In addition to working the soils with compost, Bernhard is a firm believer in not disrupting the eco-system under the soils too much, preferring to plowing only 8cm deep.
Harvest is done 100% by hand, something that is very important to note in a region who's rolling hills and flatter landscape allow for machine harvesting. After picking and a strict selection, the fruit is crushed in the press and maceration is done inside the press. The length of the maceration depends on the vintage, but also on the vineyard and the quality of the fruit. Bernhard uses closed pneumatic presses and has several different sizes. "This is how the press used to operate – there was only one pressing per day, so there was a maceration in the press," explains Bernhard. The juice is "browned" and racked into stainless steel or Stockinger fuder where it is fermented by native yeasts without temperature control. Minimal amounts of sulfur are used at harvest and bottling and the cellar is very cold, inhibiting the development of malolactic. The single vineyard wines from the three Erste Lagen – Rosenberg, Spiegel, and Stein – are on the full less until June or July before racking and bottling. The resulting wines are some of the very finest in Austria, straddling a juicy character with strong soil signatures.