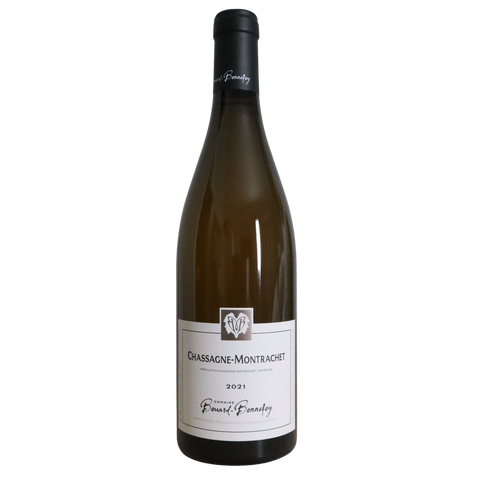 2021 Domaine Bouard-Bonnefoy Chassagne-Montrachet, Burgundy, France
Aromas of green apple, stone fruits, crisp pear. Tangy and textured; expressive mineral notes. Bright finish.
There are 30 units left in stock.
ABOUT THIS WINE
100% Chardonnay. Fruit comes from four separate villages-level plots in Chassagne. 'Les Chênes,' which borders premier cru vineyard 'La Matroie;' 'La Bergerie' in the village proper; 'Sur Matronge' and 'La Têtière,' planted in 2011 by the family, were both once vegetable gardens. Soils mix limestone subsoils with clay and gravel. 5-20 year old vines. Hand harvested. 
ABOUT THIS PRODUCER
Domaine Bouard-Bonnefoy sets the standard for naturally made, profoundly flavorful white Burgundy. Consider the family's hand-cranked wooden press, the mini-family cellar and the bottling "line," where each bottle is corked and labeled by hand—when someone says they are searching for an authentic wine far removed from today's hyper-technology and trends, they're looking for Bouard-Bonnefoy wines.
This winemaking family represents a Burgundy we thought long gone, but really the Bouard-Bonnefoy clan embodies the sort of artisanal spirit to which we've always been drawn in our three decades of visiting the Côte d'Or.
What Chassagne's many beautiful vineyards offer, the Bouard-Bonnefoys capture faithfully—these are wines that astound with their pure aromas, their deep flavors and their ability to seduce from the very first sip.
Nothing rattles winemaker Fabrice Bouard, who in his 40s is already on his second career—his first being a bodyguard for French dignitaries. His wife, Carine Bonnefoy, represents the fourth generation of a Chassagne winemaking family. Their estate has always been small, a labor of love with wines mostly sold to locals and friends. In 2006, Fabrice and Carine took over the family production, with Carine's father (well-known in the village for being one of the more diligent grape growers around) assisting in the fields.
The Bouard-Bonnefoy family farms sustainably, avoiding pesticides and herbicides (instead, plowing between rows) and using indigenous yeasts for fermentation. Harvest is always by hand.
Grapes are lightly crushed then pressed in the family's upright wooden press (inherited from the Bonnefoy grandparents). Juice is placed in older French oak barrels to ferment naturally (for both alcoholic fermentation and malolactic conversion). The estate uses new oak sparingly; each cru sees approximately 20% new wood each vintage. Winemaker Fabrice Bouard uses a minimal dose of sulfur at bottling.