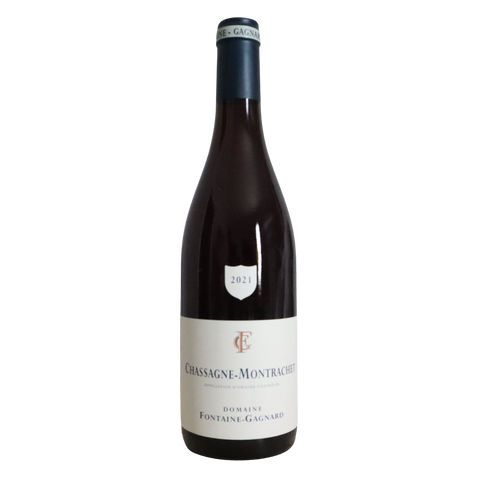 2021 Domaine Fontaine-Gagnard Chassagne-Montrachet Rouge, Burgundy, France
This 2021 Chassagne-Montrachet Rouge has a tertiary red berry and undergrowth-tinged bouquet that unfurls gradually in the glass. The palate is well balanced with an edgy opening and fresh red berry fruit with a lively appealing finish.
There are 12 units left in stock.
ABOUT THIS WINE
 Despite much effort and difficulty, the 2021 vintage was a terrific year for red wine in Burgundy, and Fontaine-Gagnard's Chassagne-Montrachet Rouge is a great example of this. 
 ABOUT THIS PRODUCER
Domaine Fontaine-Gagnard is one of the finest and most integral producers in the village of Chassagne-Montrachet. The domaine has its origin in the fine Gagnard-Delagrange holdings of fifty years ago, as the vineyards hail from the marriage of Richard Fontaine to Jacques Gagnard's oldest daughter, Laurence Gagnard, in 1982. The Gagnard family is very close-knit, with much of the vineyard work shared by various branches of the family. The intuitive and graceful Céline Fontaine manages the heart and soul of Domaine Fontaine-Gagnard -- the family's Chassagne-Montrachets, which includes a fine clutch of premier crus as well as the grand crus of Criots-Bâtard-Montrachet, Bâtard-Montrachet and Montrachet itself.
The style of the wines at Domaine Fontaine-Gagnard is intense, focused, deep, and complex. These are Chassagnes that start out life as classically balanced and accessible, but always with fine expressions of terroir and the underlying structure to age gracefully. The wines are generally aged in about a third of new oak for the premier crus and a bit more for the grand crus. Céline's Chassagne Blanc is one of the village's great values, but the real fireworks begin with the premier crus. The range of Fontaine-Gagnard premier crus begins with Chassagne "Clos St. Jean", always the most forward of the premier crus and quite popular on wine lists due to its early appeal. There are holdings as well in Chassagne "Maltroie" and "Vergers", two wines with a bit more structure than the Clos St. Jean, and able to age fifteen to twenty years in a top vintage. The top two premier crus in the lineup are "Caillerets," whose very chalky soils typically produce the longest-lived premier cru in the domaine's portfolio, and their dramatic and always superb "La Romanée." The domaine also has a rare holding in the tiny vineyard of Chassagne "Grande Montagne", which is located in the heart of the band of the best Chassagne premier crus at the top of the slope, including Virondot, Grandes Ruchottes, La Romanée, and Caillerets.