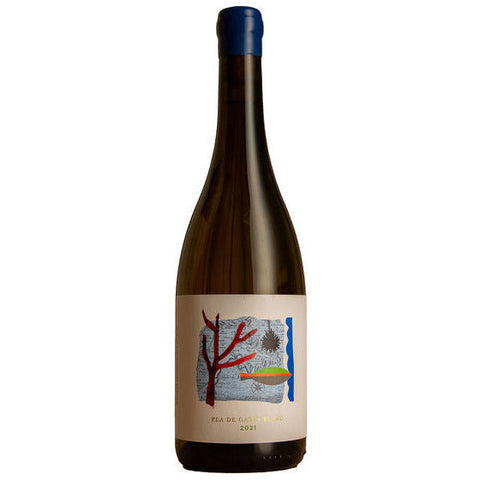 2021 Espelt "Pla de Gates Blanc", Empordà, Catalonia, Spain
White flowers, green melon and a hint of spice show in this refreshing, easy drinking wine. Pair with seafood or your favorite cheeses.
There are 9 units left in stock.
ABOUT THIS WINE
Pla de Gates is a blend of Lledoner Blanc and Roig (Grenache Blanc and Gris) that Anna Espelt grows in her Mas Marés vineyard. Having gained experience with these varieties further inland where the climate is warmer, Anna has discovered that they really shine closer to the Mediterranean, where nearly constant winds result in smaller clusters, berries, thicker skins, and fresher acidity. Pla de Gates is cooled overnight after harvesting by hand, is partially destemmed, and sees a short maceration before a long gentle pressing to capture all the aromatic and phenolic potential of these two varieties.
ABOUT THIS PRODUCER
 Having studied habitat restoration and organic farming, Anna has always sought to bring her values in line with the farming practices at her family's large estate of 200 hectares. While managing her family's operations, she has also been pursuing something more personal – a project focused on 25 hectares of vineyards collectively called Mas Marés located within the Cap de Creus Nature Reserve of Spain. While hiking around this area, she not only recognized the potential to revitalize some ailing vineyard sites, but she discovered evidence of human interaction with this ancient landscape dating back to the early bronze age. At once, Anna knew this place was special, not only for the wine that it could produce but for the very fact that humans had been interacting with this place for millennia.
In the cellar, Anna partially destemmed both the red and white varieties. The Picapolla, Lledoner Blanca, and Roig are cooled overnight before pressing whole-cluster and destemmed fruit together into stainless steel tanks. The Lledoner Negre is placed directly into open-topped oak vats. All fermentations are spontaneous, and in the case of the Lledoner Negre, the maceration is short and gentle with pump-overs to keep the cap wet. Anna prefers concrete eggs for aging her Picapolla and well-seasoned 500L and 20HL oak barrels for her Lledoner.