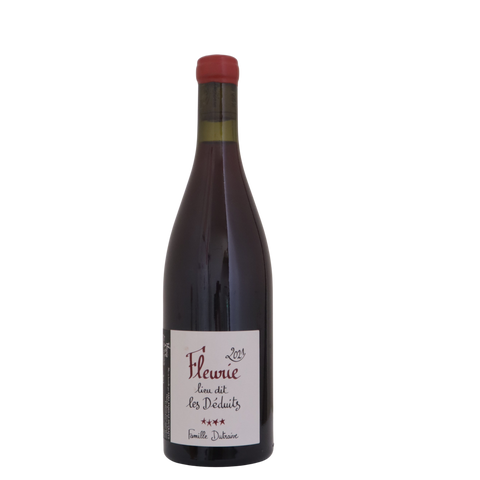 2021 Famille Dutraive Fleurie "Les Déduits" Beaujolais, France
A gulpable, thirst quencher indeed! Often the most delicate, feminine wine of the group with lift, lots of freshness and floral, fruity punch.
ABOUT THIS WINE
Fruit for 'Les Déduits' comes from some of the Dutraive family's oldest plots and is vinified in a combination of concrete and oak.
ABOUT THIS PRODUCER
Jean-Louis Dutraive is known throughout the land as a true master of Gamay. In addition to his masterful skill of producing some of the best wines in the Beaujolais, he is also a local legend with a seemingly never-ending supply of saucisson that appears at apéros any time of day.

Following vicious hailstorms in 2016 and 2017 that destroyed much of their harvest, Jean-Louis created the Famille Dutraive label with his three children: Justin, Ophélie, and Lucas. In addition to providing much-needed bottles to sell through these leaner years, the Famille Dutraive label was a way to integrate the next generation into the domaine.

The Famille Dutraive wines are made from purchased grapes sourced from carefully selected parcels that follow the spirit of organic farming, whether or not they are certified. The wines are vinified according to the same philosophy as those from the Domaine de la Grand'Cour.