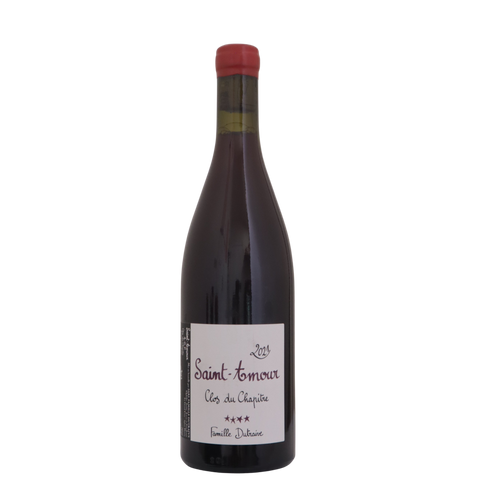 2021 Famille Dutraive Saint-Amour "Clos Du Chapitre", Beaujolais, France
Refreshing notes of red cherries, currants, potting soil, and crushed flower petals are balanced by firm acid and well-integrated tannins.
ABOUT THIS WINE
Jean-Louis Dutraive has long been acknowledged as one of the true masters of Gamay, consistently producing some of the best wines in the Beaujolais. Following vicious hailstorms in 2016 and 2017 that destroyed much of their harvest, Jean-Louis created the Famille Dutraive label with his three children: Justin, Ophélie, and Lucas. In addition to providing much-needed bottles to sell through these leaner years, the Famille Dutraive label was a way to integrate the next generation into the domaine. The Famille Dutraive wines are made from purchased grapes sourced from carefully selected parcels that follow the spirit of organic farming, and the wines are vinified according to the same philosophy as those from Dutraive's Domaine de la Grand'Cour. Grapes for this Saint Amour are from a vineyard planted in 1970. This is a lacy, textured Beaujolais bursting with scents of cherries, plums, and dried flowers, a core of sweet fruit, and a taut, stony finish.
ABOUT THIS PRODUCER
When Jean Dutraive purchased the Domaine de la Grand'Cour in 1969, it was already one of the oldest domaines in Fleurie. The estate encompasses nine hectares divided between three contiguous terroirs: Grand'Cour, Chapelle des Bois, and Champagne. The family also has 1.6 hectares of Brouilly that have been in their holding for five generations. Jean-Louis joined his father in 1977 and took over the domaine in 1989.

The domaine has been certified organic since 2009, but practicing organic for decades prior. Jean-Louis strives to make vins de terroir above all else, and follows the same principles of winemaking for each of his cuvées: hand harvesting, whole-cluster, carbonic fermentation without any added sulfur, native yeasts, and no intervention or addition of oenologic products.

Jean-Louis is a true master of Gamay. In addition to his masterful skill of producing some of the best wines in the Beaujolais, he is also a local legend with a seemingly never-ending supply of saucisson that appears at apéros any time of day.