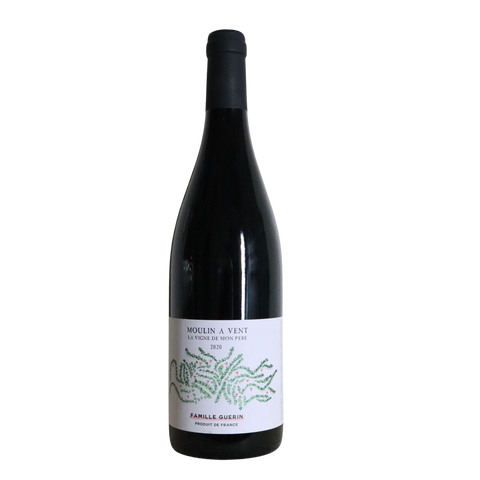 2020 Famille Guerin Moulin-à-vent "La Vigne de mon Père", Beaujolais, France
This is a seriously intense Beaujolais. Burgundy lovers might note a familiar character, a certain musicality in the balance of muscle and refinement. It's floral and intense, with deep dark fruits and veins of iron-infused minerality.
ABOUT THIS WINE
From the climats of 'Les Bois Maréchaux,' 'Les Burdins,' and 'La Coudrière' on eastern and northern exposures in Moulin-á-Vent. Semi-carbonic maceration of whole clusters is followed by 9 months of concrete aging. The wine is delicious now with dark fruit and floral notes, but will age for several more years.
ABOUT THIS PRODUCER
Elisa Guérin delivers a fresh new vision for Moulin-à-Vent and a reminder of how noble a grape Gamay can be. Elisa crafts not only joyous wines for early drinking—full of violet, cherry and wilted roses—but also intense-yet-harmonious, age worthy wines with notes of undergrowth and steeped black tea that provide tannin and structure. The Guérin family holdings reintroduce a prestigious terroir that is a revelation to even the most knowledgeable Beaujolais consumer.

Elisa started her studies in agronomy in Dijon, followed by a few years working as a buyer of local agricultural products for Parisian chefs. Elisa settled back at her family estate in Moulin-à-Vent in 2018; the return was inevitable. Elisa was raised with childhood friends Ophélie Dutraive and Alex Foillard, and knew their wines from an early age. She always knew that one day, she would return to her family terrain to make great wines.

The Guerin family estate consists of 4.2 hectares in Moulin-à-Vent, along with 0.8 hectares of high-altitude Chirouble. Of the 4.2 hectares In Moulin-à-Vent, there are 1.5 hectares of a single plot of 'Les Thorins,' and 2.7 hectares of smaller parcels. Within arm's reach of the eponymous stone windmill (Moulin), 'Les Thorins' was the namesake of the appellation, as Moulin-à-Vent was previously classified as 'Romache-Thorin.' The wines were declared fit for royalty, and were traded at the same price as Grand Cru Burgundies. Considered the most Burgundian of all Beaujolais terroirs, even to this day, we see the lasting impacts of the Burgundians in Moulin-à-Vent. The most prized parcels, such as 'Les Thorins', are owned by a handful of Burgundian négociants, putting them far out of reach of any young winemakers, and even more so for one making natural wines.

After her return in 2018, Elisa made a small, confidential cuvée in 2018. Shortly after, Philippe Guérin officially passed the family torch, making Elisa the 4th generation steward of the family terroir. Given full reign of the winery by her father, she started the organic transition in 2019, including the very steep, horse-plowed slopes in Chiroubles. The illustrated labels were hand drawn by Elisa as re-imaginations of her terroir as wild gardens.