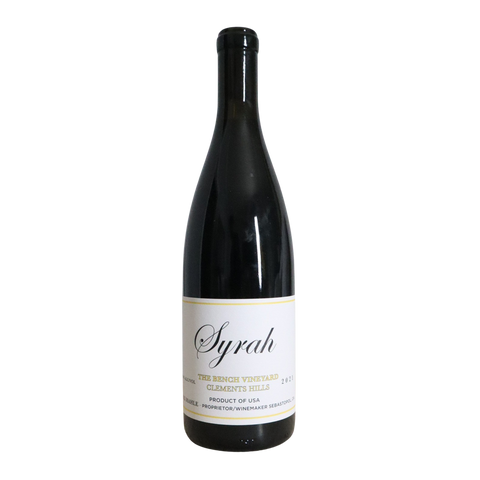 2021 Pax "The Bench Vineyard" Syrah, Clement Hills, Lodi, California, USA
Robust aromas of plums, tar and violets dominate the intoxicating aromas of this southern Rhone styled Syrah. Gritty and laced with baked pomegranate and cherry skin, this peppery Syrah shows the warmer climate it was grown in with its warm embrace of lucious baked red summer fruits and firm and vibrant personality. This medium bodied and spicy red will put on weight with time in your cellar and develop even more.
There are 8 units left in stock.
ABOUT THIS WINE
100% Syrah. 100% whole cluster fermentation. Aged in neutral 500L French Oak Puncheons for 6 months. 
Inspired by the rare southern rhone Syrah, a slight departure from our cool climate Syrahs, this wine shows those roasted flavors that you can only get from Syrah grown in sand in a warm spot. The low fertility sandy soils are derived from Granite and Tufa and form undulating "Hills" from the steady breezes from the west. These fine-grained soils grow fine grained wines.
ABOUT THIS PRODUCER
Pax Wine Cellars is focusing on the production of premium vineyard-designated Syrah based wines from the North Coast of California. We hope to eventually add a Grenache based wine, and a Northern Rhone inspired white wine. Quality is key and sourcing exceptional sources for these two wines is paramount. Our Mission Statement is simply stated; "To produce reference point Syrah based wines that are indicative of where they are grown". We are not trying to replicate any other Syrah produced in the world; Hermitage can only be made from one place. Our intent is to create unique wines with strong personalities of where they are grown. We believe that the cooler climates along the northern coast of California have the potential to produce world-class Syrah, and that is our goal. We utilize traditional winemaking techniques; it is a style of winemaking that is really without a style. The uniqueness of the growing sites for each of these vineyards should give the wine its personality; it is our job to encourage that personality to shine through. We feel the best way to accomplish this is by utilizing Indigenous fermentations, minimal handling, unobtrusive use of the finest French oak and bottling without filtering or fining. This approach to winemaking is very pure and unadulterated; therefore the wines will typically vary in color, alcohol, pH and most other characteristics that determine any given winery's 'style'. Each of our wines is the purest expression of that vineyards fruit that we are able to capture in the bottle. This is the reason that sourcing vineyards of exception or at least vineyards that have 'something to say' is the single most important thing that we can do to guarantee our success. We spend, as much time in our vineyards as we can. It is simply the only way. We lease our parcels by the acre or row when necessary, and we encourage organic farming practices. Low yields are a rule and each vine is cared for individually.