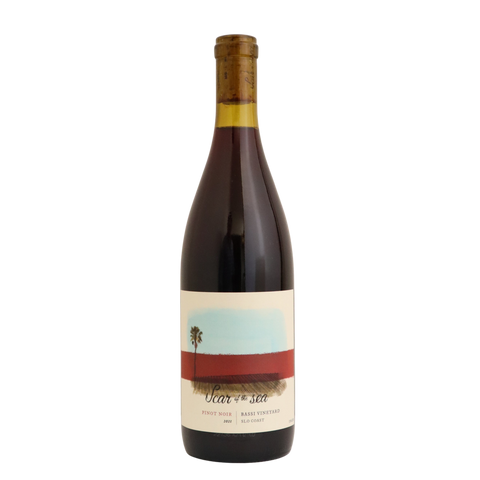 2022 Scar of the Sea Pinot Noir "Bassi Vineyard", San Luis Obispo County, California, USA
Notes of candied strawberry, citrus peel, maraschino cherries, and worn leather
ABOUT THIS WINE
The 2021 Bassi Vineyard Pinot Noir is produced from 22 year old Dijon Clone vines at the Bassi Vineyard, located on the hillsides of Avila Valley, 1 mile from Avila Beach. The vineyard is farmed by Ben Taylor with organic practices and it is in transition to biodynamic certification. This bottling is a unique snapshot of coastal California, some of the closest vines to the Pacific Ocean in California. The fruit was fermented with native yeast and 70% whole-cluster. The wine was pressed once dry in our wooden basket press then aged for 10 months in neutral french oak barrels.
ABOUT THIS PRODUCER
Scar of the Sea was established in 2012 and is owned & operated by Mikey & Gina Giugni in San Luis Obispo, California.
"The Central Coast offers us the opportunity to live, work, and play by the sea, who is influential to the vineyards we work with and how we spend our time. The ocean's presence has shaped our way of life along with the climate, soils, and geology of the coastal vineyards we work with that fall under the spell of her fog each day.
Scar of the Sea focuses on working with farmers who are instrumental in farming for the future and making wines with as little intervention as possible. Our wines are made with the intention to tell a story of where they come from, the people who farm them, and reflect each vintage under the California sun."
Scar of the Sea wines are made prioritizing organic vineyard sources, fermenting with native yeast, no fermentation additions, and bottling in the absence of fining/filtration. All the wines produced see a minimal amount of sulfur before bottling that is based on the wines natural pH to retain freshness and longevity.