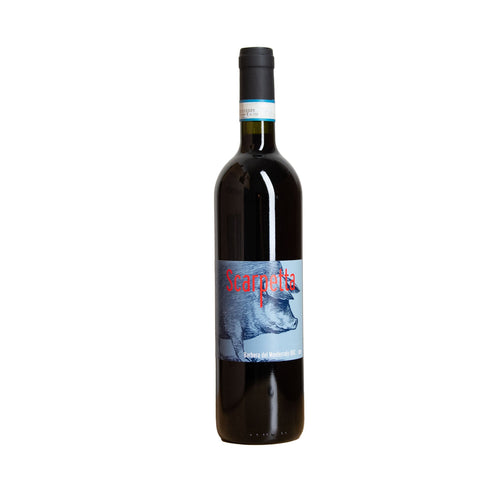 2021 Scarpetta Barbera del Monferrato, Piedmont, Italy
Aromas of crushed berries and plums intermix with aromas of earth and porcini mushrooms. On the palate, the wine is medium-bodied with bright acidity and low tannins, yet wonderfully balanced.
ABOUT THIS WINE
Scarpetta collaborated with Fabrizio Iulli in Monferrato Piemonte to create this Barbera. Monferrato is the birthplace for Barbera; while it is made in other spots in Piemonte, it is here where Barbera shows the balance of fruit and acidity.
The grapes are fermented in stainless steel and aged in neutral oak and cement vats. Resulting in a wine that shows fruit and earth without being marked by wood.
The high acidity and low tannins let this wine work with everything from a pizza or homemade pasta to a piece of beef or pork.
ABOUT THIS PRODUCER
Lachlan Mackinnon Patterson began his celebrated culinary career at the Old Warson Country Club in St. Louis, Missouri. In 1999, he moved to Paris to obtain his Certificate d'Aptitude Professionnelle at the renowned Ecole Gregoire-Ferrandi. He then went on to apprentice under Benoit Guichard at the famed Jamin, a two-star Michelin restaurant praised for its classic French cuisine. Mackinnon Patterson continued to hone his culinary skills working with chef/owner Guy Guilloux at La Taupiniere in Pont Aven, Brittany. After moving back to the U.S. in 2001, he worked at The French Laundry, Thomas Keller's renowned restaurant in Yountville, California. It was there that he met his current business partner, Master Sommelier Bobby Stuckey.
With the vision of opening a neighborhood restaurant reminiscent of the Italian frascas they had visited in Friuli-Venezia Giulia, Mackinnon Patterson and Stuckey opened their first restaurant, Frasca Food and Wine, in August 2004 in Boulder, CO. Having researched and traveled throughout Italy many times, both were deeply inspired by this region in particular — the international influences of its cuisine, the profusion of local ingredients in its rustic yet elegant dishes, its passionate relationship between food and wine, and the gracious hospitality of the locals.
In 2007, Stuckey and Mackinnon-Patterson launched Scarpetta Wines to produce Friulian white wines. Since then, Scarpetta Wines has expanded, and now Stuckey and Mackinnon-Patterson make seven varietals, including Frico Bianco, Saugivnon Blanc, Timido Vino - Spumante Brut Rose, Friulano Bianco, Pinot Grigio IGT delle Venezie, Barbera del Monferrato DOC and Frico Rosso. Scarpetta Wines are distributed in over 25 states plus Canada.