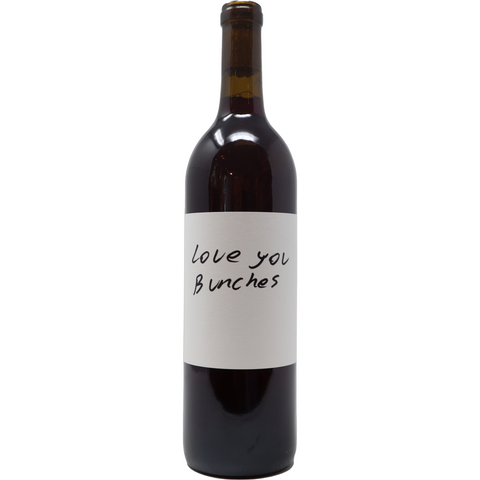 2022 Stolpman Vineyards "Love You Bunches" Carbonic Sangiovese, Ballard Canyon, Santa Barbara County, California
The Sangiovese grapes go through whole bunch fermentation, similar to what happens with Beaujolais. A friendly carbonic pop on the taste buds, followed by a touch of tart berry and zippy tannin. Chill this down before opening with a friend.
There are 8 units left in stock.
ABOUT THIS WINE
"We began producing Carbonic Sangiovese in 2013 in an effort to make a fresh, lighter version of Sangiovese.  Sangiovese as a grape, is both highly tannic and high in acid – a one-two combination that often creates a rough, rustic profile when drunk young. Before we experimented with carbonic fermentation, we intentionally picked Sangiovese on the ripe side to allow for tannin and acid to soften.  Then, we aged the wine in barrel for 30 months and another 6 months in bottle to allow acid and tannin to integrate with the wine's mid-palate flesh.  
Carbonic Fermentation doesn't extract the Sangiovese's tannin because the grapes ferment whole, uncrushed in a sealed tank.  Because we aren't worried about overly dry tannin; we can pick earlier, at lower sugar and rely on high, refreshing acidity for finishing balance in the absence of tannin.  Because we don't need to wait for integration, we bottle the wine within a few months of harvest, locking in the fresh profile. 
In 2016 we re-branded Carbonic Sangiovese "Love You Bunches" – a pun for the gentle "loving" treatment of the whole grape bunches to keep the grapes intact through fermentation.  Of course, the simple, whimsical label is the perfect fit for this fun, happy wine.  The label shows off the beautiful penmanship of vineyard manager and Grape Whisperer, Ruben Solorzano."
ABOUT THIS PRODUCER
Stolpman Vineyards is located in Ballard Canyon, just 15 miles from the coast. The location lends to warm days with cool nights. Tom and Marilyn Stolpman planted their first grapes in 1992 and today have 120 planted acres. The vineyard continues to be a dynamic location for the planting of Syrah, Sangiovese and Rousanne. Jeff Newton and Larry Finkle, along with our Vineyard Manager, Ruben Solorzano, have recently planted high density vines and continue to explore the standards of what it takes to make the best quality grapes from southern exposed vines and limestone soil.