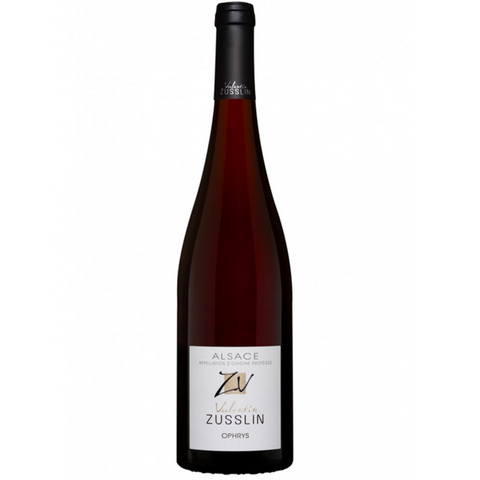 2021 Valentin Zusslin "Ophrys" Pinot Noir, Alsace, France
A delicate nose of red fruit, with a hint of floral and spice notes. Bright acidity, cherry, raspberry, and a long finish.
There are 17 units left in stock.
ABOUT THIS WINE
Pinot Noir and Pinot Gris. Clay and iron soils with limestone subsoils. Short maceration of both grapes before slow, gentle pressing. Aged in old Vosges barrels before final racking and bottling. Old school style of French table wine; i.e. pre-1700s old school!
ABOUT THIS PRODUCER
The Zusslin Wine Estate upholds the same winemaking traditions established in 1691. The vineyards are located in the Southern part of Alsace in Orschwir on the Bollenberg, Clos Liebenberg (Monopole) and Pfingstberg Grand Cru hillsides. Since 1997, the estate is led solely by the principles of biodynamic viticulture in order to re-create a universe suitable for biodiversity. These principles encourage the expression of the soil and environment from Zusslin's three terroirs. A strict selection of their grapes in the vineyards and at the cellar gives to the wines concentration and elegancy. Thanks to the terroir, the acidity combined with minerality of their grapes bring depth and great length. The maturing of the wines is carried out on fine lees for a duration of one year to one year and half to express better balance and longevity. There is no interference in the natural process of fermentation and aging of the wines. The vitality, substance & moreover the energy given by the biodynamic viticulture, make Zusslin's wines worth enjoying and drinking.