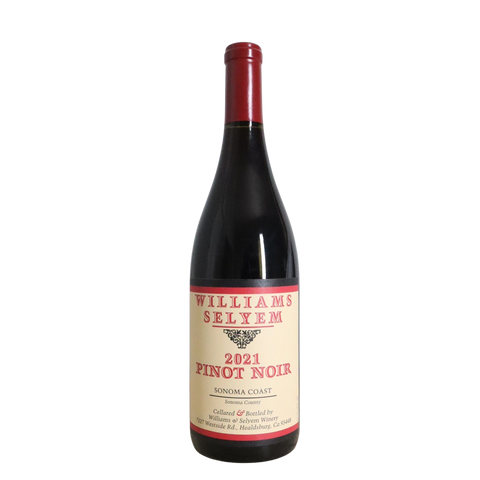 2021 Williams Selyem Pinot Noir, Sonoma Coast, California
Aromatically, the nose on the Sonoma Coast Pinot Noir has a cooler fruit character with undertones of dried herbs and wood spices. The cooler coastal hills often present more savory notes. There is soft acidity and broad tannins display more adversity during the growing season. Red berry fruits and hints of graphite and cedar.
There are 9 units left in stock.
About this Wine



The 2021 growing season experienced only about 14 inches of rain, challenging the plants from the outset of the year. Late winter and early spring were cold and dry, bringing some uneven growth and stress to the plants. The canopies were a little smaller than average going into the flowering, however the weather was ideal and mild. Flowering determines quality and quantity, so it is the most important time. The 2021 season yielded an average to slightly below-average crop size with outstanding quality. Largely, the growing season saw mild temperatures but with several scattered heat events. 2021 thankfully saw the return of the fog, which saved the vintage by keeping the nighttime temperatures cool, refreshing the plants, and keeping them hydrated under severe conditions. Due to the changing climate, fog intrusion has been minimal in the last few vintages. The 2021 season finished up around the historical average for temperatures. Despite the inauspicious start to the year, the wines showcase terrific verve, character, and site specificity.

About this Producer

The journey of Williams Seylem started back in 1979 when 
Burt Williams and Ed Selyem tried their hands at weekend winemaking at Burt's house in Forestville, California. In 1981 the pair decided to turn their hobby into their profession, sourcing fruit
 based on deals sealed with nothing but a handshake. Thirty-five years later, nearly all of those "handshake agreements" are still in place—a testament to the loyal, personal relationships that were established with the region's most respected grape growers.

As the popularity of Williams Seylem's wines grew, growers were unable to keep up with the increased demand. The next logical step was to put down vines.
In 1998, the winery changed hands, when Burt and Ed decided to sell the winery to pioneering viticulturist and longtime customer John Dyson. That same year, John purchased the Drake property in Guerneville—a riverside orchard that had once provided apples for Gerber baby foods—and started cultivating Pinot Noir grapes on the land.

Over the past 25 years, John has taken the Williams Seylem label to new heights, acquiring over 50 acres of land that has been dedicated to Pinot Noir, erecting a spectacular tasting room and winery, and racking up numerous accolades from top wine publications around the world. There is no doubt that Williams Seylem produces top-notch Pinot and will continue to do so going forward.