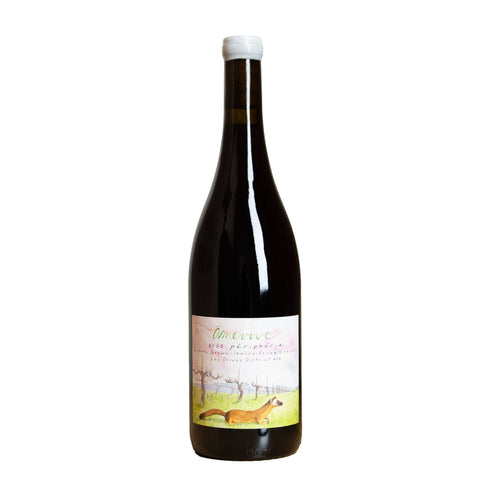 2022 Âmevive Wine "Périphérie", Ibarra-Young Vineyard, Los Olivos District AVA, California, USA
Fresh and crunchy strawberries and cherries! Crushable with a depth of floral and fruit flavors.
ABOUT THIS WINE
These vines are part of the original plantation by Charlotte Young in 1971. The 2022 vintage marks these vine's 51st harvest. This wine comes from the far western side of the property. Although the vines in these rows have hardly been irrigated in the last two years, we think the vines have been absorbing the water from the neighboring property for the last 51 years. While the rest of the old vines in the vineyard have reasonable 3ft shoots, and moderately sized clusters, the "peripherie" row has sometimes 10ft long canes sprawling onto the floor and often football sized clusters. It didn't make sense to put this anomaly section into the block designate wines. So, with an ode to the traditional way of harvesting and in an effort to make a fresh wine out of a serious vineyard, the wine was made as a co-fermented field blend.
Périphérie was harvested on a single morning, a particularly hot and humid one in 2022. The ratio of each grape is not a science, it directly correlates to the amount of vines in each row working up the western side of the property. The Marsanne, Syrah, and Mourvedre were harvested into the same picking bins and brought to the cellar to be destemmed into open top barrels. After its native fermentation commenced, this wine was made infusion style with minimal pour overs and love touches. Peripherie was sent to the basket press after about 2 weeks. This wine aged for 6 months in neutral French oak barrels before being bottled unfined and unfiltered in March of 2023.
This is a fresh but serious expression of Ibarra-Young Vineyard. Possibly its truest representation as it encompasses all three of the original blocks on the property.
You can seek out glimpses of all three varieties in this wine. Delicate yet fairly formal. A wild one like a melange of freshly harvested fruits from the garden, peeled and prepped for your seasonal jam-making. Light, alive, easy, crushable.
ABOUT THIS PRODUCER
Winemaker, Alice Anderson, spent two years working in the Northern Rhône where the seamless connection between farming and winemaking became her ethos. After returning to Santa Barbara County, Alice worked for and was influenced by some of the region's brightest winemaking lights. She's taken those experiences and influences to her brand called mevive Wine.
mevive is a small winery and vineyard based in Santa Barbara County. Alice Anderson and her partner farm a historic 10-acre vineyard in Los Olivos District AVA, home to Syrah, Mourvedre, and Marsanne planted in 1971. They farm with the environment in mind using biodynamic and regenerative organic practices. They actively rotate chickens, sheep, and ducks throughout the vineyard, and are completing their 3rd year of no till. They add nothing but occasionally minimal sulfur to the wines and they are always unfined, unfiltered, and made with intention. Alice likes to say that she "makes natural wines for the classic palette." She is extremely passionate about the natural world, keeping the wild wild, and making tasty wines that are good for both the planet and our bodies!