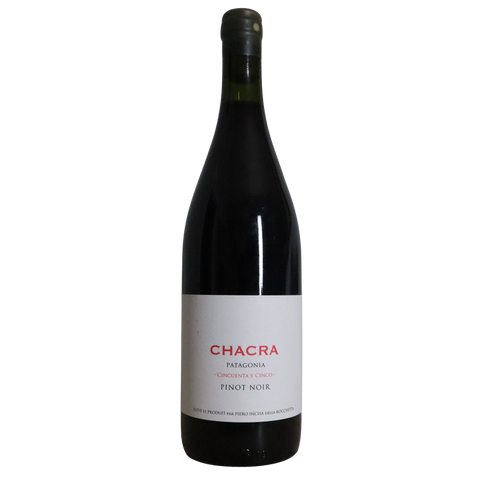 2022 Bodegas Chacra "Cincuenta Y Cinco" Pinot Noir, Rio Negro, Patagonia, Argentina
Well-balanced with nice minerality, this is a high elevation Pinot Noir with spice, smoke and red fruit notes.
There are 15 units left in stock.
ABOUT THIS WINE
Cincuenta y Cinco comes from vineyards planted in 1955 which gently rest on a sea of pebbles, typical in riverbed soils. It is fermented whole cluster at very low temperatures, enhancing the floral characteristics of the wine. Cincuenta y Cinco has the highest amount of tension of all the Chacra wines while it still retains a comfortable ease. There is a wonderful purity in this wine with dried strawberry and iodine. This refined red mixes crushed bilberry and cherry fruit with undertones of smoke, game and mineral. A fine length.
100% Pinot Noir
Aged: 11 months in concrete tanks for 50% and 50% in 2nd, 3rd and 4th use French oak barrels
100% natural and unfiltered
Organic and biodynamic
ABOUT THIS PRODUCER

Chacra was created by Piero Incisa della Rocchetta in 2004 with the intention of finding the most unobstructed expression of the climate, micro-climate, and terrior of Mainqué in the Río Negro region of Patagonia.

Respecting the environment by following biodynamic and organic principles, Piero strives to make wines that are transparent, pure, delicate, and floral with a strong minerality.

In Patagonia, a "chacra" is a special piece of land destined to pomology. At the same time, chacras are vital energy centers that provide us with the ability to connect with the whole universe, with everything living and vibrating. In its nourishment, in the marriage with every meal, wine is the companion of pleasure and sensitivity. Wine is intimate and touches all our senses. Chacra aims to enhance that connection.
Harvests usually begin late February to early March. The old vineyard offers polyphenolic maturity and yields a very low natural performance as to the fruit load (1-1.5 kilos/plant). Consequently, these vineyards strike a perfect balance; the lower the yield, the higher the natural concentration of the berries, thus boosting the quality of the vineyards and bunches.

Once harvest begins, grapes are picked in the small hours arriving to the winery with the remaining hint of that distinctive Patagonian morning cold. Only the best bunches are picked; bunches that don't reach our quality standard are left to feed the birds. At the winery, a second careful selection takes place where the best bunches are chosen to produce Chacra wines.