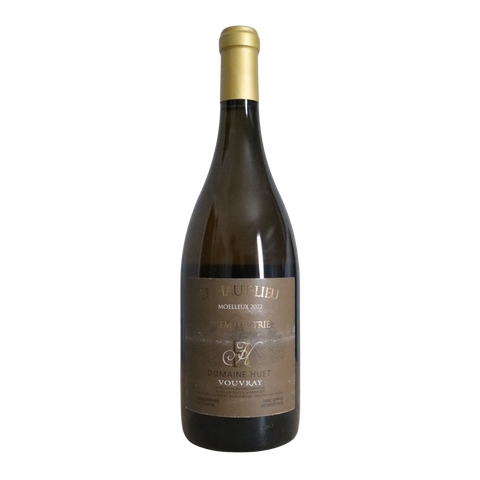 2022 Domaine Huet Vouvray Moelleux "Le Haut-Lieu Première Trie", Loire Valley, France
This particular Chenin Blanc has around 90 grams per liter of sugars and aromas of ripe quince, dried melon, overripe apple, orange marmalade, raisins, rose petals, caramel, honey, lanolin, minerality and nuts.
There are 12 units left in stock.
ABOUT THIS WINE
Huet's Premiere Trie is one of the world's great sweet wines. Grown biodynamically in some of Vouvray's greatest vineyards, made from selected passes of the most luscious—and often botrytized—grapes, they combine beautifully ripe, sweet fruit with profound minerality. 
 ABOUT THIS PRODUCER
Domaine Huet's iconic estate's three parcels—Le Haut-Lieu, Le Mont, and Clos du Bourg—compose most of Vouvray's première côte. They were an early adopter of biodynamic farming and stand as a model for small producers around the world.
Le Haut Lieu is Huet's original vineyard, lying slightly higher and further from the Loire than the other two parcels, and produces the most open and accessible of their wines, with broad richness and a tropical-inflected palate. Even though this is structured to age for multiple decades, it's definitely the most approachable now—an exceptional pairing with beautifully ripe cheeses or as its own after-dinner treat.