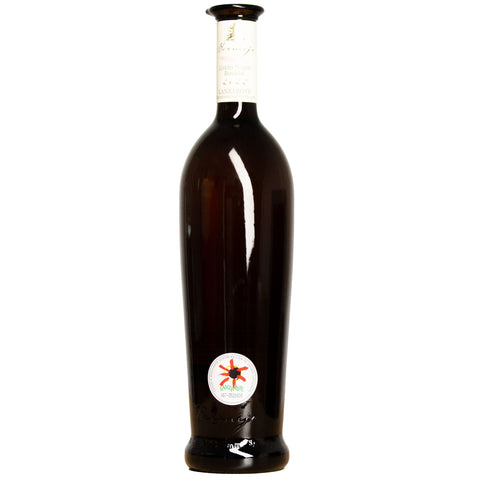 2022 Los Bermejos Listán Negro Rosado, Lanzarote, Canary Islands, Spain

Dry, high in acid, and extremely refreshing, this pale pink rosado calls to mind a nervy Txakolina, charged with a uniquely Canary minerality. Black volcanic soil gives a type of expression one might sense with smoke and tangy fruit. Succulent and strawberry infested; herbs, orange oil, mint, and rock.
ABOUT THIS WINE

The yield from this vintage harvest was particularly low, due to even drier than usual conditions during the season. The precious little wine that was produced is worth every drop of rain that fell: this rosé exudes texture and layered flavors that continue to amaze, sip after sip. Fairly full-bodied on the palate, it combines the brightness of passionfruit and the depth of salty grilled peach with the savory mellowness of olive oil or tapenade. A unique rosé from a unique region. Sustainably grown.
ABOUT THIS PRODUCER
Los Bermejos is owned and run by winemaker Ignacio Valdera, on the island of Lanzarote, the most challenging of the Canary Islands on which to produce wine. A mere 125 km from the African coastline, conditions here are extreme, earning the island the reputation of "vineyard of the impossible." The terrain of Lanzarote resembles a lunar landscape more than a traditional vineyard, as very little vegetation can survive in the porous, black volcanic soil that only receives a few inches of rain per year. Adding to the challenging conditions are the fierce winds from the Atlantic Ocean and Sahara desert, resulting in the innovative winegrowing technique of planting each vine in a small hole, or hoyo, each protected from the elements by its own little stone wall. The hoyos also allow the vines to better access the organic matter beneath the top layer of solidified lava. As might be expected, yields are very low and all the vineyard work is done by hand (using pack camels), and organically (the winery is in the process of certification). Listán Negro (also known as Listán Prieto or Palomino Negro), is closely related to País, or Mission, grown in parts of South America and California. Listán negro barely remains on the European mainland (it was wiped out by the phylloxera epidemic) but thrives on the Canary Islands, where it covers almost 12,000 acres of land.