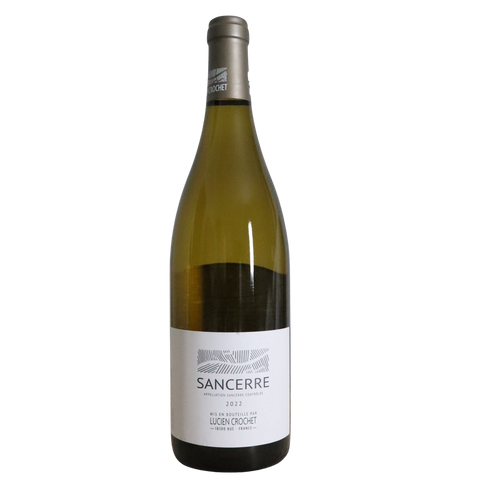 2022 Lucien Crochet Sancerre, Loire Valley, France
Classic, elegant, textbook Sancerre. Pretty herbs and a hint of citrus on the nose lead into a light, refreshing, mineral-driven palate. Pair with goat cheese, summer salads, and lean fish.
There are 8 units left in stock.
ABOUT THIS WINE
The grapes for this basic cuvée of Sancerre are sourced from the vineyards in Bué, Vinon and Crézancy. After harvest, fermentation is done in stainless steel cuves at temperatures between 14 and 18 degrees Celsius. As with all the whites at the domaine, this wine sits in contact with the fine lies for a considerable period of time with the racking being done late in the spring following harvest. The first bottling occurs no earlier than July and frequently does not occur until September of the year following harvest.
ABOUT THIS PRODUCER

Lucian Crochet is run by a married couple who both come from Sancerre wine growers. The family of Lucien Crochet have been winegrowers for several generations. 
In the early 1950s, Lucien Picard was one of the pioneers of bottling Sancerre wines in the region to be able to sell them in Paris. Lucien Crochet merged the two estates together. He developed relationships with the finest restaurants in Paris and it was only natural for the export markets to follow. 

"The wealth of our vineyards is linked to their soils, which overlie calcareous clay rock and an Oxfordian or Kimmeridgian subsoil. Our plots are located on east, south and west-facing slopes at altitudes varying between 240 and 280 metres, which allows us to harvest the grapes when they are at their optimum peak of ripeness."