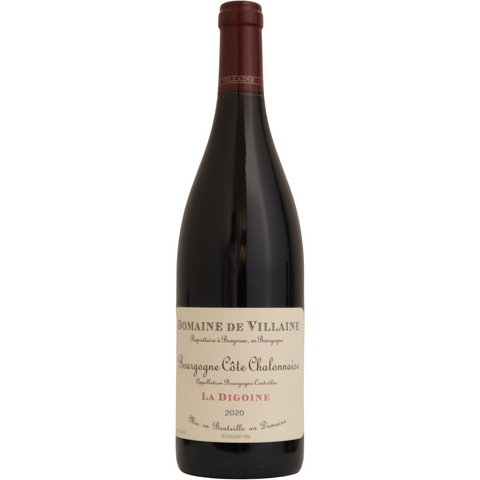 2020 Domaine de Villaine Bourgogne Cote Chalonnaise Rouge "La Digoine", Burgundy, France
Mineral and saline, 'Digoine' plays the tension with the generosity of a juicy cherry and with very elegant tannins that oscillate between velvet and silk. A small bitter touch takes the finish very far and lets you guess its good ageing potential.
ABOUT THIS WINE
'La Digoine' is a site at the foot of a slope, known for centuries to provide the deep soil and growing conditions necessary for excellent red wine. Our vineyard here is planted in moderate-yield Pinot Noir.
'La Digoine' can be drunk very young. Within two or three months of bottling, it demonstrates immediate appeal with red berry fruit and a balance of roundness, structure, and length on the palate.
However, this is another versatile wine which benefits from bottle aging.

After 18 to 24 months, slow maturation and evolution begin to make their mark, and 'La Digoine' will improve over the next ten year, revealing the deep, complex aromas worthy of a great burgundy.
Depending on cellar conditions, we recommended twelve to fifteen years of aging.
Serving temperature for a young La Digoine should be around 60°F, and around 64°F for an older one.
It goes well with red meat and any of a variety of cheeses, though soft cheeses like Camembert, Brie, and Vacherin should be avoided.
ABOUT THIS PRODUCER

Aubert de Villaine deserves the accolades he receives. He is a reluctant hero, an unlikely trait in a man of such accomplishment, intellect, and inherent sense of noblesse. Heir to one of the most enviable wine legacies of all time, Domaine de la Romanée-Conti, the young Aubert was more interested in literature and law than wine. After spending time in New York working for an importer of Burgundian wines, he finally returned home in the mid-nineteen sixties to assume his role as co-director of DRC. In the 1970s, Aubert and his American wife, Pamela, sought less pedigreed pastures to call home. They finally settled in the village of Bouzeron, well-situated between Chassagne-Montrachet, Santenay, Rully, and Mercurey, in the Côte Chalonnaise.

However high profile his day job, Aubert still considers himself a vigneron like any other, and Bouzeron's off-the-beaten-path location left him alone to make his own wines without the demands of upholding an international reputation. The domaine was horribly rundown when the de Villaines took over, but years of studying this unique terroir have made them pioneers in one of the last forgotten enclaves of Burgundy. The monks of the great abbey of Cluny first planted vines here in the twelfth century, leaving a legacy that has endured for centuries. Consequently, the grape varietal that reigns supreme today is the dry, white Aligoté—an unusual celebrity given its work-horse reputation in the middle of Chardonnay country. Bouzeron boasts the best Aligoté in Burgundy, the Aligoté Doré, (instead of the lesser clone, Aligoté Vert) which gives smaller yields to produce wines with more expressive aromatics. Although the grape was overlooked until 1979 when it first earned the appellation Bourgogne Aligoté de Bouzeron, the I.N.A.O. finally upgraded the appellation to A.O.C. Bouzeron in 1997, largely due to Aubert's advocacy over the years. Aubert's single vineyard Bourgognes, both in blanc and rouge, are equally outstanding representations of the unlikely pedigree found in this corner of the region.

The de Villaines farm three appellations within the Côte Chalonaise, namely Bouzeron (Aligoté), Rully (Chardonnay and Pinot Noir) and Mercurey (Pinot Noir). Their single-vineyard parcels are stunning examples of what this complex and amazing terroir can yield. Though their wines are quite enjoyable young, their ability to age well is what one might expect from a master such as de Villaine. Much of this is due to both the diversity of his vinestock and his organic and biodynamic methodology in the vineyards, both of which Aubert stands by with great conviction. He also ferments his Mercureys and Rully rouge in wood tanks, a style adopted from DRC. Pierre de Benoist, Aubert's nephew, currently directs the domaine, upholding the sense of tradition, excellence, and standards for which it has become so well-known. In 2010, Aubert was awarded Decanter Magazine's prestigious "Man of the Year" Award, a distinction that, unsurprisingly, the modest Aubert seemed reluctant to accept.