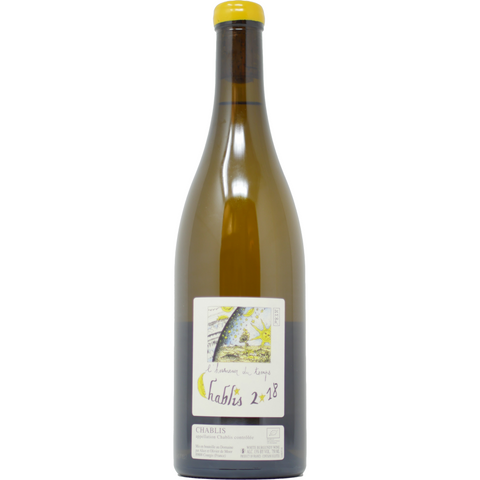 2018 Alice & Olivier De Moor Chablis L'Humeur du Temps, Burgundy, France
Farmed organically and harvested by hand. The fruit is pressed and fermented spontaneously with indigenous yeasts in stainless steel tanks. The wine goes through malo and is aged on its lees without bâtonnage in a combination of steel and old wood.
ABOUT THIS WINE

100% Chardonnay. The name tells the story: "the mood of the times (or weather)" indicates that it's the de Moors' way to capture the nature of the vintage as a whole. It comes from 3-4 estate parcels in and around Courgis that thede Moors planted beginning in 1995. The farming is certified-organic and the harvest by hand. The fruit is destemmed, gently pressed and fermented spontaneously with indigenous yeasts; the parcels are vinified separately. The wine goes through malo and is aged on its lees without bâtonnage or racking in a combination of used Burgundy barrels and 2500-liter foudres as well as enamel-lined steel tanks for almost a year. Bottling is without fining or filtering and is the only point at which a touch of sulfur is added to the wine.

ABOUT THIS PRODUCER

Alice and Olivier de Moor live and work in Courgis, a small village 7km southwest of Chablis. It is where Olivier grew up, and his "old" cellar, the part where he ages his Chablis in oak barrels, is underneath his grandparents' house. From the hill where Courgis sits, the view is of vineyards over hills all the way to the Chablis Grands Crus.
Olivier says the landscape has changed a lot in his lifetime, that all the woods, bushes and fallow land that dotted the hills have disappeared in favor of vines.
Alice is from the Jura, and the two met at a large Chablis estate where Olivier was in charge of the vineyards. Both are enologists, graduates of the Dijon enological school, with enough knowledge to take a radically different direction for their vines and wines than their neighbors. While the division of labor principally consists of Olivier in the vines and Alice in the cellar and office, both are equally omnipresent in every role and all decisions are made together.
They began their estate by planting three plots of Chablis-Bel-Air, Clardy and Rosette-in 1989. Of their first harvest in 1994, they kept only 15HL and sold off the rest. They were still employed elsewhere, but quit that fall after leasing their Saint-Bris vines: 0.55HA of planted in 1902 and 0.40HA of Sauvignon Blanc planted in 1950. For the next three years, they worked their four hectares of vines while tending the vines of other winemakers to make a living. In 1996, they planted a large plot in Chitry (the parcel is called "Champagne") with Aligoté and Chardonnay.
The De Moors have worked their vines organically since 2005, a rarity in their area. In 2002, they stopped using large harvest bins and replaced them with small boxes where the grapes are not crushed by their own weight. In 2007, they built a large and high-ceilinged winery, allowing them to do all their cellar work by gravity. In 2008, they purchased a second-hand pneumatic press to treat the grapes in the gentlest way possible. There is no SO2 used at harvest or during the vinification. Aging has traditionally been in Burgundian barrels of different ages for the Chablis wines, the Bourgogne Chitry and the old vine Aligoté, with young vine wines and Sauvignon aged in cement and stainless steel tanks. Over the years this has evolved: 228 liter Burgundian barrels are still the most common vessel, though demi-muids and foudres of various sizes have joined the fray along with enamel-lined stainless steel tanks and even a few amphoras.