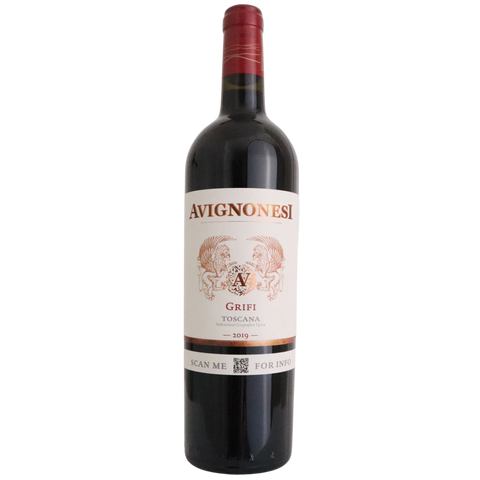 2019 Avignonesi "Grifi" Toscana IGT, Tuscany, Italy
Dark ruby red in color with purple reflections, the nose opens with notes of blueberries, blackberries with sandalwood and graphite. The palate is dense and complex with hints of blackberry jam and cinnamon. It then evolves like a balsamic explosion supported by good acidity. The lively tannin all over the palate accompanies the savory and persistent finish.
ABOUT THIS WINE
This risk-rewarding wine is for bullish producers only. In fact, in 2014 Grifi was not produced due to adverse climate conditions. An incredible blend where Sangiovese's freshness perfectly merges with the Cabernet Sauvignon's backbone. Another fine example of a great blend for ageing. The assembly of two such different personalities such as Sangiovese and Cabernet Sauvignon blend together, giving this wine a unique character.
ABOUT THIS PRODUCER
Named after the original founders of the estate, the Avignonesi family, the winery has undergone an exciting journey since it was first established. Acquired by Virginie Saverys in 2009, Avignonesi has grown in size and at the same time has become a leader in biodynamic viticulture in Italy. Since the acquisition and thanks to Virginie's respect for the ecosystem, her staff and the final consumer, the winery has started producing and crafting organic wines that are truly authentic to their origins yet singular and unique. And in the best biodynamic approach our wines receive minimal intervention in the cellar! Sustainability also plays a big part in the everyday life at Avignonesi.