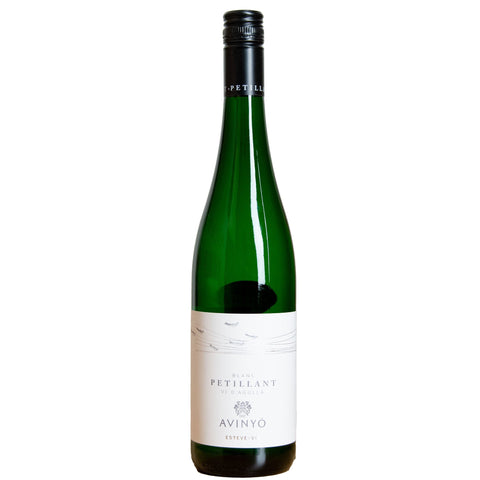 2022 Avinyo Petillant Blanc, Penedès, Catalunya, Spain
Bright, fresh, and effervescent. A summer-time, pool-side quaffer that will quench all levels of thirst.
ABOUT THIS WINE
Avinyó Petillant is a vi d'agulla, the Catalan term for a prickly wine bottled with a little natural effervescence retained from the winemaking process. This vibrant and refreshing wine is the traditional summertime quaffer of the Penedès region of Catalonia, and it's perfect for drinking out of a porrón. Petillant is made with a blend of two organically-farmed, estate vineyards. Finca La Guardia is the highest, most rugged vineyard on the property at 350 meters; here muscat de Frontignan was planted in 2003 in the stony calcareous-clay soils. Macabeo and xarel-lo are grown in the Finca Can Fontanals vineyard, planted from 1978 to 1988.
After a nighttime harvest, the grapes are very gently pressed in a pneumatic press. The alcoholic fermentation occurs with indigenous yeasts in temperature-controlled stainless steel tanks between 14°C and 16°C. The wine is then cold stabilized before the beginning of secondary fermentation in stainless steel tanks with the addition of native yeast and raw cane sugar. The wine is bottled in all its freshness in January.
ABOUT THIS PRODUCER
Up until the late 19th century, the Esteve family of Avinyó subsisted on the growing and selling of cereal crops, legumes, and a little bit of wine, all grown around their traditional horseshoe shaped farm-house, Can Fontanal. But when phylloxera crossed the border from France into Spain, the family vine- yards and their savings were destroyed when concerns over the louse caused a run on the region's largest banks. Faced with starting over, Joan Esteve Marcè saw opportunity in hardship and traveled to France in search of phylloxera resistant vines. He returned with new rootstocks immune to the pest. His son, Joan Esteve Nadal, expanded the family's holdings to four parcels totaling about 40 hectares and re- planted many of the vineyards with the indigenous varieties of grapes. As a result, Avinyó farms only estate-owned vineyards, a rarity among cava and wine producers. Today, another generation is at the helm. Four siblings blend tradition, technology, and a relentless pursuit of quality.