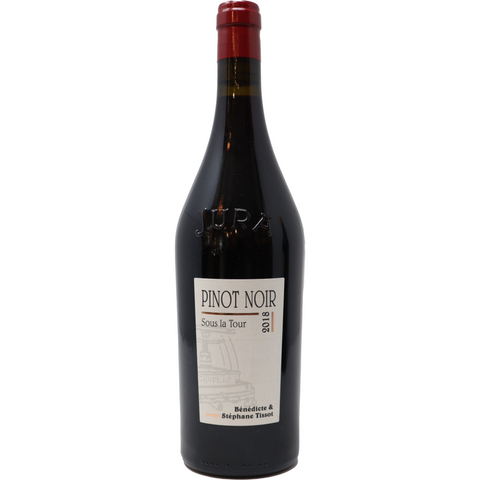 2018 Benedicte et Stephane Tissot Pinot Noir "Sous la Tour", Jura, France
This Pinot benefits from the terroir's limestone influence and harmoniously and delicately expresses wonderful fruity and floral notes.
ABOUT THIS WINE:
The grapes hail from a limestone slope known as "les Corvées Sous la Tour", farmed biodynamically, and harvested by hand. They undergo a 3 week whole-cluster maceration and then mature for a year in Burgundy barrels. Bottled without sulfur or filtration.


ABOUT THIS PRODUCER:
Domaine André et Mireille Tissot is considered as one of the emblematic Domain from Jura, nowadays the vineyard is led by Bénédicte and Stéphane Tissot. This family business is at the top of the appellation. In order to achieve the maximum expression of the terroirs, the 35 hectares are cultivated in Biodynamic viticulture. This allows the soils to live, to have grapes untouched by chemical products, to allow natural yeast fermentations and to reduce the doses of sulphur in the cellar. Here the wines are handcrafted by the winemakers, and any industrial process is banned.