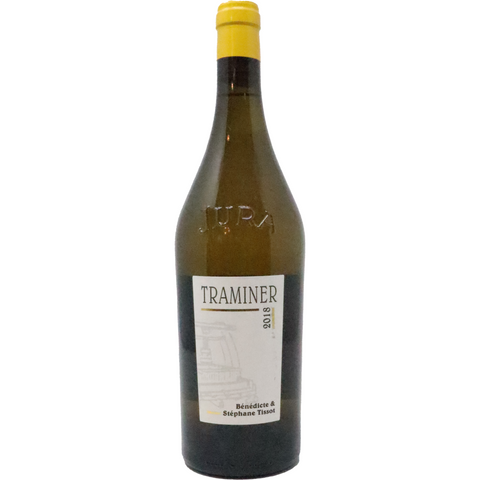 2018 Benedicte Et Stephane Tissot Traminer, Jura, France
This wine is medium-bodied with rich fruit aromas and flavors, peach and apricot, baking spices, lemons, nuts and honeyed viscosity. Delicious and unique, and certainly a wonderfully gastronomic wine!
ABOUT THIS WINE
Traminer is an old, local name for Savagnin (bearing no relation to Sauvignon Blanc). It is one of Jura's signature varieties. This wine is "topped up," meaning the aging vessel is filled to leave no space at the top for oxidation and bottled after six months. This drinks with a sincere freshness and a lingering waxiness on the finish.
ABOUT THIS PRODUCER

Domaine André et Mireille Tissot is considered as one of the emblematic Domaine from Jura, nowadays the vineyard is led by Bénédicte and Stéphane Tissot. This family business is at the top of the appellation. In order to achieve the maximum expression of the terroirs, the 35 hectares are cultivated in Biodynamic viticulture. This allows the soils to live, to have grapes untouched by chemical products, to allow natural yeast fermentations and to reduce the doses of sulphur in the cellar. Here the wines are handcrafted by the winemakers, and any industrial process is banned.