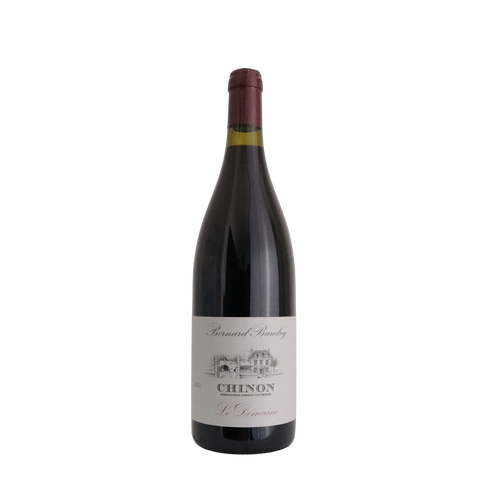 2021 Bernard Baudry Chinon Rouge "Le Domaine", Loire Valley, France
Deep electric-purple in color. Aromas of lack currant, cranberry, tar, wild herbs, flint, and matcha tea rush from the glass. It's medium-bodied, with gritty tannins that give way to waves of fresh acidity. A truly great Chinon, it's lively and exotic now and will develop beautifully in the cellar.
ABOUT THIS WINE
This cuvée comes from their highest vineyard, which rests on a plateau of gravel, sand, and limestone, and it is arguably their best entry point into the charm of Loire Valley Cabernet Franc, lithe and less dense than the bottlings from their clay-and-limestone terroirs. Spontaneous fermentation and unfiltered bottling lead to a delicate, peppery wine with notes of blackberries, currants, and leather
ABOUT THIS PRODUCER
Bernard Baudry is unquestionably one of Chinon's most outstanding producers. Not only does he have the talent to make delicious and consistent wines, vintage to vintage, but he is also fortunate enough to have vineyard land that showcases many of the varied soil types of the appellation. After completing his studies at the viticultural school in Beaune, Bernard returned to the Loire Valley to consult in Tours. By 1975, he had purchased his first two hectares of land in Cravant-les-Coteaux, a village from which almost half of the production of A.O.C. Chinon is sourced. Over the years, the domaine has grown to twenty-five hectares. Bernard's son, Matthieu, joined the family domaine in 2000 after studying winemaking in the Mâconnais and Bordeaux, with internships both in Tasmania and California! The Baudrys work vineyards composed of gravel, sand, limestone, silica, and clay. The variations of terroir and vinification methods make each of their cuvées unique and distinct. Bernard and Matthieu focus the lion's share of their production on Chinon Rouge, five fine cuvées of Cabernet Franc, all aged in old and new barrels in their incredible cellars chiseled out of tuffeau behind the winery. They make a surprising Chinon Blanc, a rarity to find let alone to import, as well as a stunning Chinon Rosé. The Baudrys are staunch traditionalists, and you would have a hard time finding a Chinon more classic than theirs.