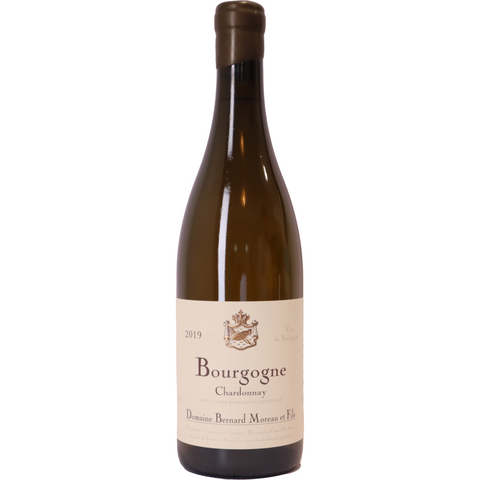 2020 Bernard Moreau Bourgogne Blanc, Burgundy, France
The bouquet offers aromas of precise apple blossom, peach highlighted by a citrus oil. The palate is fresh with a touch of bitter lemon on the entry, refreshing acidity and superb energy on the finish.
ABOUT THIS WINE
This site imparts a distinct minerality. The other parcel has a stony, red clay soil; its south-east exposure and slight slope ensures optimal ripening and gives the wine its structure and body. It is the combination of both origins that makes the Moreau Chardonnay Bourgogne Blanc at once rich, concentrated, fresh and complex. Moreau ferments in 400 litre oak casks; 20% new, and the balance between 1 to 4 years old. The lees are stirred about once per week over the first 6 weeks only, in order to enrich the young wine while maintaining freshness. The fermentation period usually last for 2 weeks using the grape's native yeasts, and is followed by 6 months of maturation in barrel. Malolactic fermentation takes place in barrel, after which the wine is racked for the first time. The young wine is then transferred to stainless steel tanks in March to harmonize the cuvée and complete its development on the fine lees.

ABOUT THIS PRODUCER
It's impossible to discuss Chassagne-Montrachet without mentioning the name Bernard Moreau. Year to year, this celebrated producer vinifies and bottles some of the purest, most thought-provoking wines of the appellation. Employing a style of wine making that might best be described as hands-off, Bernard produces Pinot Noirs and Chardonnays that are sensual, opulent and utterly delicious.
The winery's roots go back to 1809 when Auguste Moreau built a cellar across from the Champs Gain vineyard and farmed his few hectares of Chardonnay and Pinot along the golden slope. The 1930s saw an expansion of the family's vineyards under the guidance of Marcel Moreau. Roughly 80% of the domaine's current vineyard holdings were acquired by Marcel. At age 14, Bernard Moreau took over the vineyards and cellar in the early 1960's. In 1977 the reputation of this great estate was fully established under the leadership of Bernard and Françoise Moreau and the winery was named Domaine Bernard Moreau. In addition to the changes in equipment, farming and wine making, they also purchased additional land bringing the vineyard total to 14 hectares. To help with wine making, viticulture and sales, sons Alex and Benoît joined the Domaine after having worked in New Zealand, Australia and South Africa.
Alex and Benoit have loosely split the responsibilities of the operation with Benoit more focused on the vineyards and Alex more focused on the cellar and winemaking. Their first vintage was 1995 and they took over control of the vineyards and winemaking in 1999.