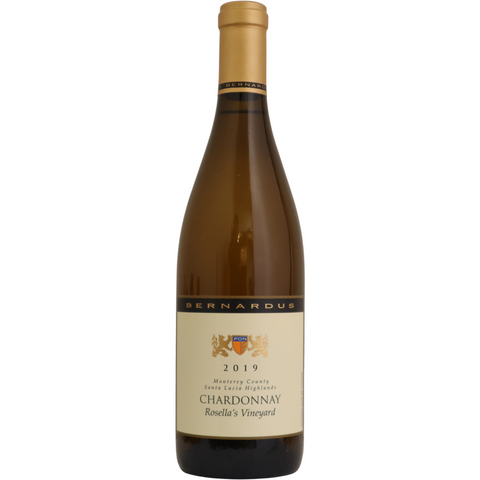 2019 Bernardus ''Rosella's Vineyard'' Chardonnay, Santa Lucia Highlands, California, USA
Rosella's Chardonnay exhibits complex aromas of ripe white fruits, honey suckle, caramel and baking spices. Amazingly persistent with a bright finish. Terrific paired along side crab cakes or mild, buttery dishes.

ABOUT THIS WINE
At harvest, all our grapes are hand picked after careful evaluation for ripeness. The grapes are then very gently pressed in order to obtain the highest quality juice. We ferment 25% in stainless steel tanks at cool temperatures in order to have bright fruit flavors to blend with our rich, complex barrel-fermented lots. All our barrels are hand-stirred every two weeks until shortly before blending and bottling.

ABOUT THIS PRODUCER
The focus of Bernardus is to create wines that flatter the palate and stimulate the imagination. Our Marinus Estate Bordeaux-style red wine is the centerpiece of owner Ben Pon's dream. It is complemented by Chardonnay, Pinot Noir and Sauvignon Blanc from cool coastal climate vineyards.
Pon appreciates wine as an art-- a form of art that transcends the ordinary. His dream with Bernardus is to make a red wine equal to the finest from Bordeaux. To achieve this purpose, Ben, a Dutchman who could have planted vineyards anywhere in the world, has chosen the Carmel Valley for his estate vineyards and winery. Since the early 1970's, there has been a growing awareness of the outstanding potential for Bordeaux varieties from this new viticultural appellation. The Bernardus estate vineyards of Marinus and Featherbow Ranch are located in the Cachagua region of the Carmel Valley. We have been told that Cachagua is the Spanish word Native Americans used for deep or hidden water. It has been said that Native Americans believed that all things in nature were sacred and interrelated. Their respect for balance in nature is carried on in the vineyards of Bernardus. More than 300 live oaks have been preserved to thrive among carefully planted vines.