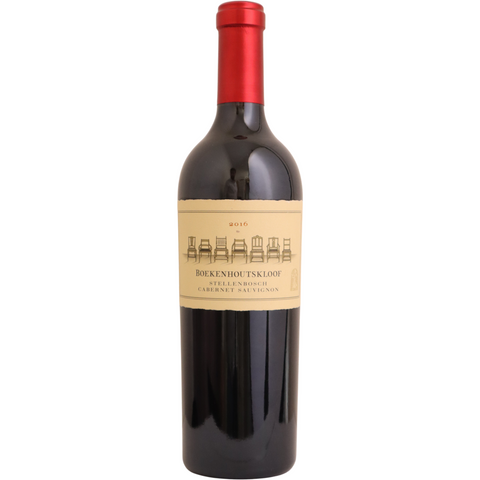 2016 Boekenhoutskloof Cabernet Sauvignon, Stellenbosch, South Africa
Bouquet of red currant, dark cherries and blueberry with bergamot and cedar. The mid-palate is focused, silky and poised with very fine-grained tannins and balancing acidity.
ABOUT THIS WINE
Franschhoek Cabernet Sauvignon was sourced from four individual parcels adjacent to one another on a south-westerly aspect of our Franschhoek valley, where the soil is predominantly sandy loam over granitic bedrock. 2016 was an exceptional vintage for Cabernet, akin to 2015, and was preceded by a moderate growing season. The Estate adhered to traditional picking dates and the Cabernets came in showing healthy fruit and a very high skin-to-pulp ratio, resulting in wines with exceptional tannins and classic phenolic structures, yet still offering wonderful natural acidity. The Estate again opted to blend in a very small percentage of Cabernet Franc from our old vineyard on the farm, contributing subtle fragrance and finesse to the dark fruit spectrum.

ABOUT THIS PRODUCER
Boekenhoutskloof was established in 1776. Located in the furthest corner of the beautiful Franschhoek valley, the farm's name means "ravine of the Boekenhout" (pronounced Book-n-Howed). Boekenhout is an indigenous Cape Beech tree greatly prized for furniture making.
In 1993 the farm and homestead was bought and restored and a new vineyard planting program was established that now includes Syrah, Cabernet Sauvignon, Cabernet Franc, Grenache, Semillon and Viognier. Today, Marc Kent is the owner, chief winemaker, and driving force behind the dynamic farm.