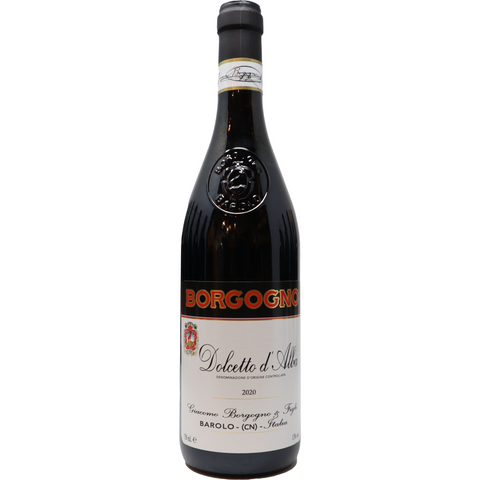 2020 Borgogno Dolcetto d'Alba, Piedmont, Italy
The fragrant profile is very fresh and refined, with notes of berries, cherries and spices. At the sip it is pleasantly tannic, crossed by a wave of freshness and a good fruity component. A very approachable Italian wine for any palate!
ABOUT THIS WINE
After the harvest into our vineyards of Dolcetto in Madonna di Como (Alba), in the cellar the grapes are destemmed and pressed. This is followed by a spontaneous fermentation in concrete tanks, with temperatures between 22°C and 28°c for about 7 days. This is followed by a soft pressing and ageing in stainless steel tanks for 6 months at a temperature of 18° C. This process allows the maintenance of the freshness and fruit notes. Then 4 months in bottle.
ABOUT THIS PRODUCER
Since 1761, the most historical winery in Barolo. The underground cellars continue to represent a rare historical memory of the Langa to this day, and the wines are made according to tradition: long spontaneous fermentations in concrete tanks without the use of selected yeasts, and long periods of ageing, strictly in large Slavonian oak barrels. They cultivate their vineyards in Barolo, Madonna di Como and in the Colli Tortonesi. With absolute respect for the earth, Borgogno does not use any chemical fertilisers or herbicides, and practice only eco-friendly treatments. Borgogno is certified organic from the 2019 vintage forward. Today, Borgogno continues to be the expression of a territory and of tradition and history, always with a watchful eye on the future.