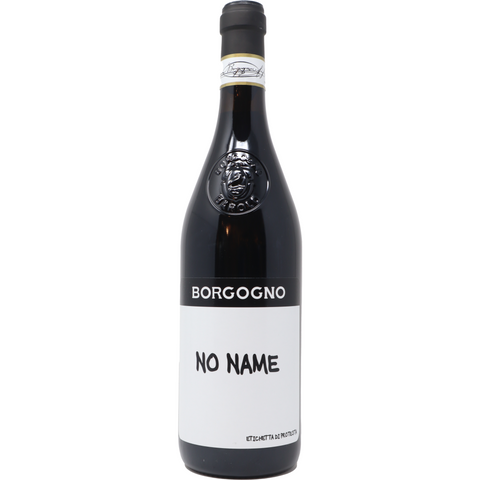 2017 Borgogno Langhe Nebbiolo "No Name", Piedmont, Italy
Intense garnet red color with orange reflections. Ethereal, persistent, intense "goudron" perfume. Dry, harmonius, velvety, full-bodied, austere and generous taste.
ABOUT THE WINE
Following a manual harvest of Nebbiolo grapes, in the cellar the grapes are destemmed and pressed. This is followed by a spontaneous fermentation in large concrete tanks, at a temperature between 22°C and 28°C for about 15 days. This is followed by a soft pressing and ageing into large Slavonian oak barrels for 3 years. Then 6 months of aging in bottle. A Nebbiolo with a great structure. It goes perfectly with the great classics of Piedmontese cuisine, such as wild game meat and braised meat. Moving to France we can pair it with Bourguignonne. In Norway with Tradisjonell Etersuppe (soup with vegetables and pork knuckle). Further east, however, shashlik (marinated mutton) is used in Caucasian cuisine. In the Balkan Peninsula it can be combined with many meat dishes, such as Selsko Meso (pork and mushroom stew). Further south, in Greece with pork, souvlaki (meat skewers). In Colombia with posta negra (beef in sauce). Moving to the East, on the other hand, it is perfect with grilled meat, according to the Japanese method of teppanyaki.
ABOUT THE PRODUCER
"I have chosen one of my best wine and I called it No Name as a quiet protest against the bureaucracy that afflicts Italian agriculture and the wine world."

Since 1761, the most historical winery in Barolo. The underground cellars continue to represent a rare historical memory of the Langa to this day, and the wines are made according to tradition: long spontaneous fermentations in concrete tanks without the use of selected yeasts, and long periods of ageing, strictly in large Slavonian oak barrels. They cultivate their vineyards in Barolo, Madonna di Como and in the Colli Tortonesi. With absolute respect for the earth, Borgogno does not use any chemical fertilisers or herbicides, and practice only eco-friendly treatments. Borgogno is certified organic from the 2019 vintage forward. Today, Borgogno continues to be the expression of a territory and of tradition and history, always with a watchful eye on the future.