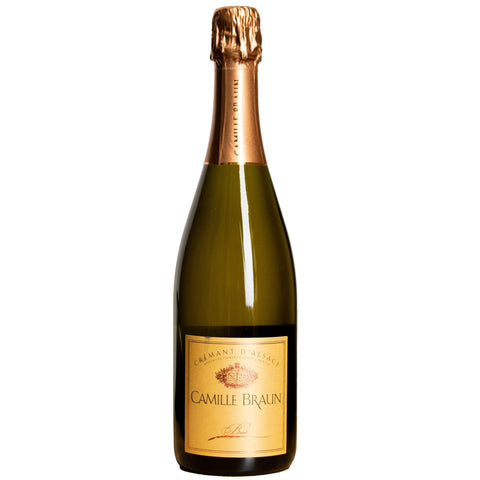 NV Camille Braun Crémant d'Alsace Brut, Alsace, France
A very subtle nose is promising with its hints of ripe red apple, gentle shortbread and lemon zest. The palate presents that very same harmonious and fresh picture, enhanced by the finest fizzing creaminess of the mousse and the integrated yeastiness.
ABOUT THIS WINE
Sparkling wine production takes place on the estate, from vin clair to finished product. The vin clair for Crémant Brut and Crémant Brut Rosé is aged in stainless steel, and after secondary fermentation is completed, the wine ages on the lees for 18-24 months.
It complements a seafood platter, such as oysters, shrimp, and crab, and also pairs wonderfully with smoked salmon. For a delightful combination, try it with soft and creamy cheeses, like Brie or Camembert, or enjoy it alongside a plate of fresh fruits. It can also be enjoyed as an apéritif or paired with light and crispy appetizers like puff pastries or canapés.
ABOUT THIS PRODUCER
The Braun Family can trace their roots in Alsace back to 1523, and have been making wine in the village of Orschwihr since 1902. Today, Domaine Camille Braun consists of 15 hectares of vines in or near Orschwihr, including the Grand Cru site "Pfingstberg," documented since 1299, and single sites Bollenberg, Lippelsberg, Effenberg and Meissenberg. Under the watchful care of Christophe and Chantal Braun, the farming has been organic for the past 15 years and has been biodynamic since 2005. Production is just over 8,000 cases. The result of this labor has been numerous awards, including the Prize for Excellence at the Concours National in 2000, awarded for the consistent quality of all their wines, and in 2006 the Gold Medal at the Concours National des Crémants for their Crémant d'Alsace Brut.