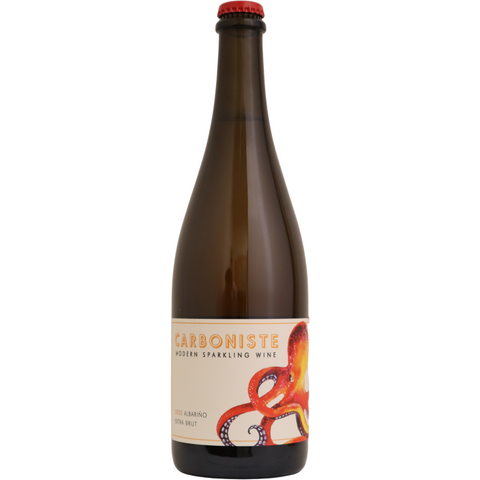 2022 Carboniste Albarino Extra Brut "Gomes Vineyard", California, USA
An exciting bottle of bubbles that is light and fresh sparkling wine with notes of gooseberry, kumquat, and stonefruit blossom. It is a fantastic aperitif wine and is guaranteed to pair so many favorite recipes including grilled octopus!
ABOUT THIS WINE
100% Albariño. Sourced from the "Gomes Vineyard". Whole cluster pressed and settled for 2 days and then fermented in tank with native yeast for 3 weeks. No malolactic fermentation with the secondary fermentation in bottle for 2 months. Disgorged and topped with light dosage and crown cap
ABOUT THIS PRODUCER
CARBONISTE is a dedicated producer of modern Californian sparkling wines from husband and wife duo, Dan and Jacqueline Person. Dan spent three years at Schramsberg, staged at D.R.C in 2009, and spent the past few years with Dan Petroski at Larkmead; Jacqueline a longtime and invested consultant for Naked Wines. Together, they embarked on their passion for sparkling wine and produced three flagship items: Sparkling Albariño, Extra Brut Pinot Noir Rosé, and a Pét-Nat Pinot Grigio.
In place of an homage to Champagne, CARBONISTE is a proud statement about the beauty of California's fruit. They found that using the traditional French techniques to make sparkling wine in California didn't quite work with their fruit. Instead, they tried to think about the best way to express the fresh, fruity flavors of, for example, Sacramento Delta Albariño, in sparkling form. What this means is that they are not a pét-nat, méthode traditionnelle, or méthode ancestrale house – each wine they produce is handled a bit differently depending on the fruit.