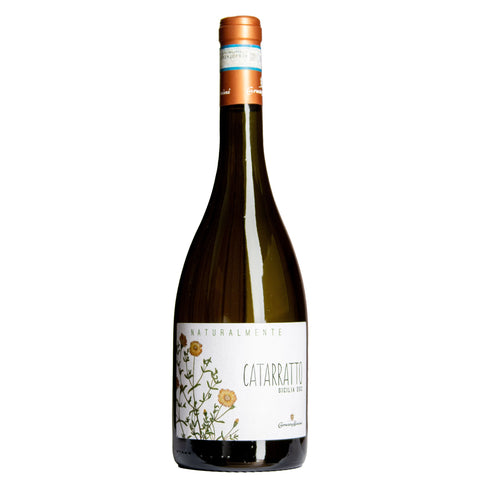 2021 Caruso & Minini Catarratto, Sicily, Italy
This wine is super aromatic with notes of honeysuckle and citrus. There are hints of salinity and minerality because of the vines proximity to the ocean. A perfect pairing for with a simple lemon pasta, white meat or stand alone as an aperitif.
ABOUT THIS WINE

Cryomaceration of the destemmed grapes in stainless steel tanks at controlled temperature of 4°C for 12-24 hours. Soft pressing of the grapes, static clearing of the must and fermentation at controlled temperature of 16-18°C for 20 days. Sur-lees in tank. 2 months in the bottle follow.

ABOUT THIS PRODUCER

Located on Sicily's western-most coast near the town of Marsala, Caruso & Minini boasts a history that harks back to the late 1800's when Antonio Caruso bought the company to grow grapes for the nearby Marsala factories. The company was passed through subsequent generations until Nino Caruso finally decided to begin making and bottling his own wine in the mid 1900's. In 2004, Stefano Caruso joined forces with Mario Minini of Lombardy to launch the present-day winery, producing wines from indigenous Sicilian varietals such as Catarratto, Nero d'Avola, Frappato, Inzolia, and Nerello Mascalese. Today, Stefano's daughter Giovanna works closely with her father to head up this historic winery.
The winery now boasts 120 hectares at 200-400 meters above sea level, including 5 hectares that are farmed organically and dedicated to Giovanna Caruso's BIO project. Located 20 kilometers from the sea, the area is cooled by strong winds, yet is far enough from them to avoid any potential damage. The area, which was under water millions of years ago, is characterized by its alluvial soil, rich in water and organic substances. Most notable are the large stones called cuti in local dialect. The softball-sized cuti not only impart a distinct minerality on the grapes grown in them, but also soak up heat from the sun which they transfer to the vines, allowing for an earlier ripening of the grapes thus making harvest possible at a stage which will allow for higher acidity in the wines.