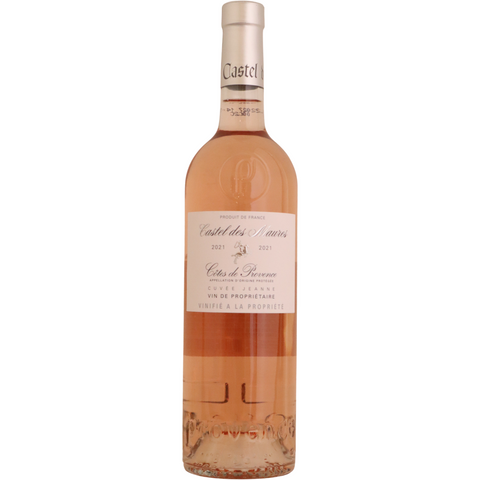 2022 Castel Des Maures Côtes de Provence, Provence, France
This is an immediately attractive, fruity wine. Crisp acidity cuts through the red currant and berry fruits to give a light and refreshing wine that has a tight, mineral aftertaste.
ABOUT THIS WINE
Chateau Castel Des Maures is a small vineyard located in Hyeres, a tiny Mediterranean town along the edge of the Maures forest. The domain itself consists of 2.4 hectares of different grasps separated by a row of olive trees. This little vineyard is located at Hyères in the French Riviera, on the slopes of the Valley of Sauvebonne, adjacent to the Forêt des Maures. It consists of different types of vine, spanning over 5,71 hectares, each variety separated by a row of olive trees.
The Cuvée Jeanne of the Domaine Castel des Maures is part of the "Rosé d'exception" with regards to the care taken of the vine in order to obtain a healthy grape which reaches full and perfect maturation, as well as with regards to the wine-making process, which is carried out in small quantities, and is carefully monitored throughout every stage of the "fermentation à froid" process in order to ensure that the maximum of savour is extracted from the grape.
ABOUT THIS PRODUCER
This lovely rose is produced by Chateau de la Pascalette, which was built in 1889 by Victor Roux and is one of the most remarkable buildings of La Londe-Les-Maures. In the beginning of the 20th century, the château was surrounded by orange and lemon groves, with acres of endless vineyards. Its cellars were equipped with old tanks and barrels, a testimony to its past. Abandoned after World War II, the château stayed lifeless for about 50 years until its acquisition in 2001.Their Castel des Maures vineyard is located at Hyeres in the French Riviera, on the slopes of the Vallee de Sauvebonne, along the edge of the Foret des Maures.