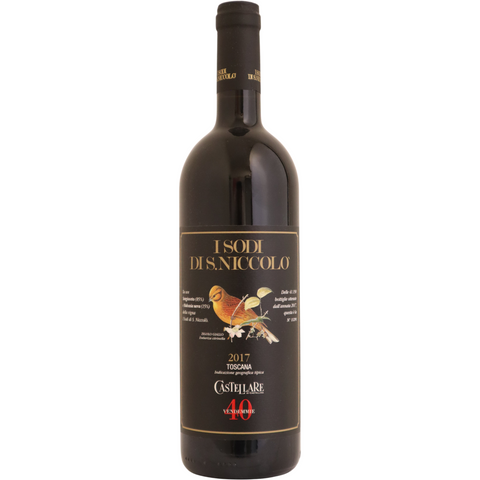 2017 Castellare "I Sodi Di San Niccolo", Tuscany, Italy
Deeply sophisticated and showcasing its full pedigree in terms of both the bouquet and palate. Each individual aroma can be distinguished with total clarity, from the cherry to the spices, whose focus and integration are exceptional.
There are 3 units left in stock.
ABOUT THIS WINE
2017 growing season was characterized by a very long period of drought and quite high temperatures. However, thanks to the favorable location of Castellare vineyards, the results have been surprising. The southeast-facing vineyard amphitheater, located at an average height of 430 meters above sea level, is reached by the fresh air current blowing from Valdelsa which mitigates the climate and increases the temperature range during the night. Therefore, even in particularly warm years such as 2017, the vines completed their vegetative cycle in an optimal way keeping a high acidity in the grape. The 2017 vintage adds to I Sodi di S. Niccolò typical features - complexity, elegance and persistence - a great freshness, premise of longevity. The wine immediately unveils a great structure, both olfactory and gustatory, with a marked acidity which makes it long and persistent, perfect to become a long aging wine.

Aging took place in barrique (50% new oak) for 24 to 30 months.
ABOUT THIS PRODUCER
Castellare di Castellina was born of the union of four estates (Castellare, Caselle, San Niccolò and Le Case) on the initiative of Paolo Panerai, with the aim of producing wine of the best possible quality. This was in the 1970s, when the so-called Renaissance of Italian wine had begun. A Renaissance to which Castellare made its own contribution with a combination of tradition and innovation. Tradition in caring for its vineyards and terrains, distinguishing between fields and sodi (in which fields are the more easily worked terrains and sodi - "hard" soils - are the hardest but the best for growing vines), in its decision to continue producing wine according to the Tuscan method, and in its respect of the Chianti Classico denomination - only using indigenous Tuscan grape varieties to produce a wine that is internationally acknowledged as one of the greatest reds in the world. Innovation was pursued first of all with the creation of the first experimental vineyard in the Chianti region together with the University of Milan - directed by Professor Attilio Scienza - and the University of Florence, implementing the first scientific selection of Sangiovese clones (here called Sangioveto). And then by introducing the use of the barrique, following the in-depth research and advice of Emile Peynaud, the most renowned oenologist in living memory, as well as by paying constant attention to each ongoing wine-making process in the incessant, ever-evolving work of producing quality wines.