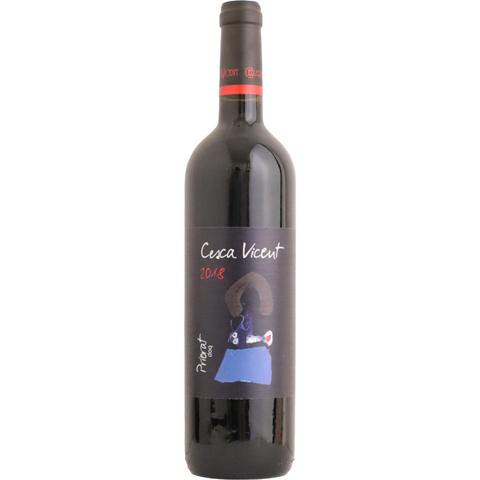 2018 Celler Cesca Vicent, Priorat, Spain
Ripe red currant, plum, blackberry and eucalyptus aromas. The wine is rich and full-bodied with concentrated baked fruit and spice flavors, soft, mouth-coating tannins and a long finish. Enjoy with a burger topped with blue cheese and bacon jam.
ABOUT THIS WINE
Cesca's Priorat, a blend of 45% Garnacha, 25% Cabernet Sauvignon, 15% Merlot, 10% Syrah and 5% Samsó, is fermented with native yeasts in stainless steel, then aged for 8 months in French oak.
ABOUT THIS PRODUCER

Cesca Vicent is a unique property located in the heart of Priorat in the town of Gratallops. The estate is owned and operated by Francesca Vicent (better known as Cesca), who is a fifth-generation producer. Her family has been farming grapes in this area since the 16th century! After she inherited her plot of land, she began researching its soil composition, discovering that her 13.2 hectares included not only the classic Llicorella soil for which Priorat is famousr, but an additional 10 different soil types. Cesca became determined to craft a range of wines that show the incredible diversity of her vineyard. She has been practicing organic viticulture since 1999 — becoming certified in 2011 — striving to make a wine as naturally as possible and true to the terroir from where it came.