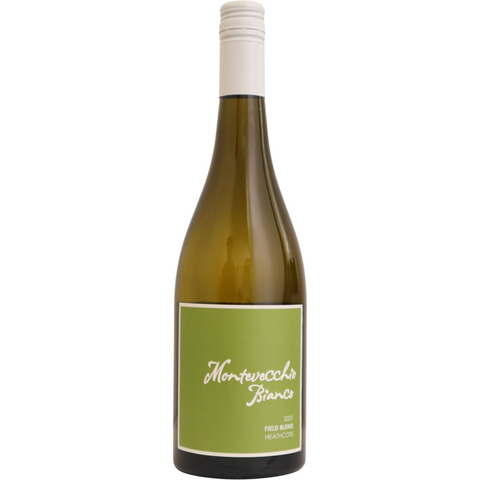 2021 Chalmers Wines Montevecchio Bianco, Heathcote, Victoria, Australia
The aromatics combine citrus, florals, and orchard fruit in the form of grapefruit, passionflower, yellow apple, and finger lime. Dry and bright, but with a light textural grip from the Vermentino on the finish.
There are 14 units left in stock.
ABOUT THIS WINE
A bend of 50% Vermentino, 21% Pecorino, 12% Ribolla Gialla, 10% Falanghina, 4% Moscato Giallo, 3% Fiano.

East facing sloped site, 150-170m elevation planted on iconic red Cambrian soil of northern Heathcote. Well ventilated, warm site with sustainable farming practices and a focus on soil health and balanced vines. Viticulturist is Troy McInnes.

Hand-picked, whole bunch pressed and co-fermented on full solids. Wild ferment, temperature controlled, maturation in stainless steel with 6 months on lees. Vegan friendly.
ABOUT THIS PRODUCER
Bruce and Jenni Chalmers began growing grapes in the 1980s, with their vineyard in Murray Darling, on the border of Victoria and New South Wales. This diverse and thriving vineyard spawned their nursery business, which is responsible for importing close to 70 new clones and varieties. These varieties were released to Australia in 2000 and have since been a major factor in the improvements in sustainability and quality seen in the Australian wine industry in the last 20 years.
There has always been a focus on Italian varieties, which has been amplified under the next generation; Bruce and Jenni's daughters Kim and Tennille have been the custodians of the family business since 2005 and 2011, respectively. Under their care, Chalmers purchased an 80- hectare plot in the northern portion Heathcote, where they have been able to find the greatest Australian terroirs for the Italian grapes they've been importing and championing for decades. Their success has been largely dependent on
their ability to match Italian grapes to Australian climates, focusing on thick-skinned grapes that are drought tolerant, resistant to sunburn, and have plenty of natural acidity.
Kim and Tennille have been instrumental in the amplification of the Australian Alternative Varieties Wine
Show, and in 2015 they also spearheaded 21st Century Vino, an initiative to increase awareness and expertise in Italian varieties grown across Australia. Bruce and Jenni are still ever-involved in the company, "always looking for the next big thing," as Kim says.