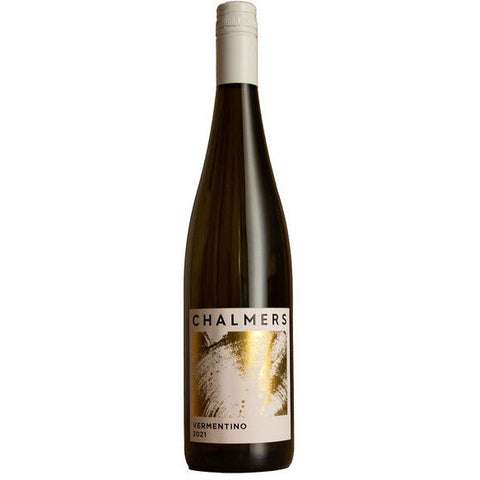 2021 Chalmers Wines Vermentino, Heathcote , Victoria, Australia
Crisp and lean, yet expressive and complex. Straight out of the bottle you'll catch distinctive notes Meyer lemon, finger lime, blanched almonds, sea spray and chalk. Long and refreshing. We can't think of a better wine for the warmer months of 2022!
There are 9 units left in stock.
ABOUT THIS WINE
East facing sloped site, 150-170m elevation with red Cambrian soil. Vermentino clone imported by Chalmers in 2002 and planted at Heathcote in 2009 in east-west row orientation at 4545 vines per hectare on unilateral cordon, spur pruned VSP. Farming is sustainable, focused on soil health and balanced vines. Viticulturist is Troy McInnes.

Hand-picked, whole-bunch pressed, free run only. A long, slow, and cool wild ferment followed by 6 months on lees in stainless steel vats. Unfined, vegan friendly. 50ppm sulfur dioxide added pre-ferment and 80ppm once dry.
ABOUT THIS PRODUCER
Bruce and Jenni Chalmers began growing grapes in the 1980s, with their vineyard in Murray Darling, on the border of Victoria and New South Wales. This diverse and thriving vineyard spawned their nursery business, which is responsible for importing close to 70 new clones and varieties. These varieties were released to Australia in 2000 and have since been a major factor in the improvements in sustainability and quality seen in the Australian wine industry in the last 20 years.
There has always been a focus on Italian varieties, which has been amplified under the next generation; Bruce and Jenni's daughters Kim and Tennille have been the custodians of the family business since 2005 and 2011, respectively. Under their care, Chalmers purchased an 80- hectare plot in the northern portion Heathcote, where they have been able to find the greatest Australian terroirs for the Italian grapes they've been importing and championing for decades. Their success has been largely dependent on
their ability to match Italian grapes to Australian climates, focusing on thick-skinned grapes that are drought tolerant, resistant to sunburn, and have plenty of natural acidity.
Kim and Tennille have been instrumental in the amplification of the Australian Alternative Varieties Wine
Show, and in 2015 they also spearheaded 21st Century Vino, an initiative to increase awareness and expertise in Italian varieties grown across Australia. Bruce and Jenni are still ever-involved in the company, "always looking for the next big thing," as Kim says.