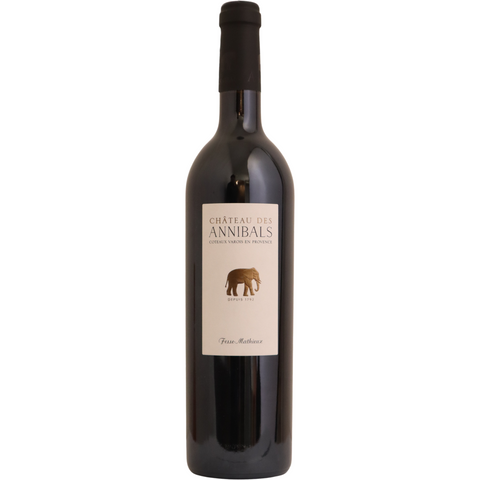 2019 Château des Annibals Red "Fesse-Mathieux", Provence, France
The nose is very pleasant with soft spices and small red berries, dark purple flowers, lifting aromas of fresh eucalyptus. On the palate beautiful aromas of ripe dark plums skins, undernote of savory Mediterranean herbs with present but silky tannins.
ABOUT THIS WINE

The grapes are harvested at night. After fermention using only indigenous yeasts that wine is aged in concrete vats for good thermal inertia. It is unfiltered, monitoring of the lunar calendar.

ABOUT THIS PRODUCER

Château des Annibals, founded in 1772, covers over 30 hectares of vines (75 acres) in the heart of the Provence Verte region. Most of the vineyards on their southern side of a valley near the La Loube mountains fall under the Coteaux Varois en Provence AOP.
Nathalie Coquelle, owner and winemaker, has dedicated herself to sustainability. Château des Annibals is a certified organic winery powered by 100% renewable solar and wind energy. Nathalie's commitment to sustainability extends even to their choice to source all dry goods from recycled materials. They also regularly control the oxygen levels in the tanks in order to use as few sulfites as possible during production.
As the benchmark for the Appellation Coteaux Varois en Provence, Natalie's advocacy was recognized by holding the official treaty signing on the grounds of the winery. Not only do they produce one of the best rosés in Provence, they are also the oldest winery, having been built in 1792.
Visitors to the winery can even see the old road that once traversed the region, which runs straight through the winery, and remnants of ruins that are thousands of years old on the property. The high-end cuvée Suivez-moi-jeune-homme translates to "follow me young man." This name was inspired by a true-to-life tradition in 17th-century French fashion, in which women would wear hats with two pieces of lace dangling down onto the small of their back. The young men would "follow behind" the women, entranced by the beautiful lace floating behind them as they walked.