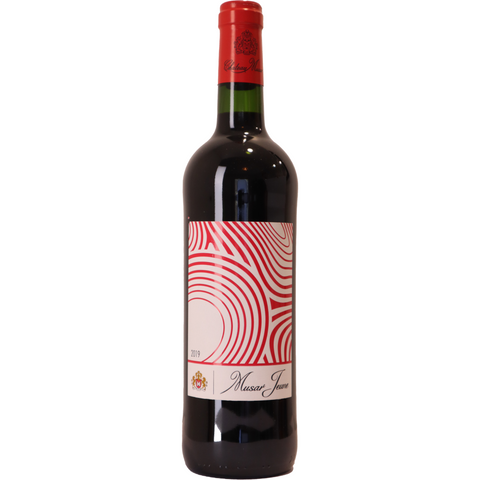 2020 Chateau Musar, Musar Jeune Rouge, Bekaa Valley, Lebanon
This is a warm and fruity wine with medium tannins and gentle acidity. There are dense dark fruits – blackcurrant's, blueberries as well as strawberries and pomegranate with a touch of Eastern spice.
ABOUT THIS WINE
Made from the fruit of Cinsault, Cabernet Sauvignon and Syrah, vines planted since 2000 at around 1,000m above sea level in the Bekaa Valley. Musar Jeune Red is fermented in cement-lined vats and bottled a year after harvest and released a year later.

No need to decant; enjoy straight from the bottle at between 16-18°C with grills, roasts, casseroles, delicatessen meats and mature cheeses.
ABOUT THIS PRODUCER

Founded by Gaston Hochar in 1930, Chateau Musar is Lebanon's premier estate. This 371 acre property is located in the Bekaa Valley, 15 miles north of Beirut in Ghazir. The Houchars cultivate indigenous and international varietals – Cinsault, Carignan, Cabernet Sauvignon, Syrah and Grenache as well as Obaideh (a native of Chardonnay), Merwah (a native variant of Semillon), Chardonnay, Viognier and Vermentino. The vineyards are planted on a limestone bed with gravelly top soils and are certified organic by the Mediterranean Institute of Certification (IMC). The white vines are 100–150 years old and planted at 4,000 feet, the reds at 3,280 feet. The altitude and the Mediterranean climate serve to lengthen the ripening process which helps produce fruit of superior quality.