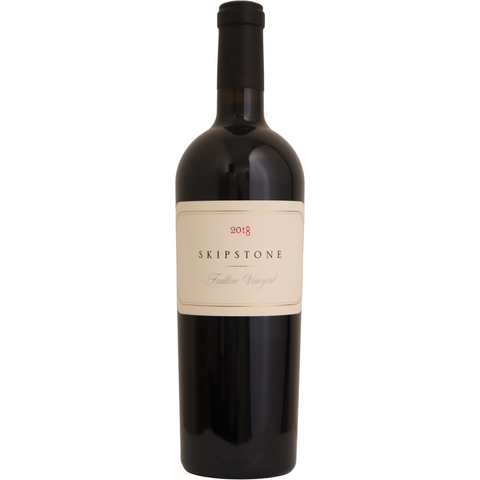 2018 Skipstone Faultline Vineyard, Alexander Valley, Sonoma County, California, USA
Aromas of raspberry chutney, Herbs de Provence, and hints of cocoa. On the palate, the densely packed flavors of fig paste, raspberry reduction, and hoisin are carried gracefully throughout this expansive mouthfeel and finish that persists for 60 seconds.
There are 28 units left in stock.
ABOUT THIS WINE:
"Faultline Vineyard is our interpretation of a Right-Bank Bordeaux blend. The awesome power and grace of Pomerol and St. Emillion have inspired us to build a cuvée around our oldest plantings of Cabernet Franc and Merlot. In particular, Cabernet Franc is annually the biggest voice in the blend; this gives our wine its incredible texture and complexity.
Our estate lies directly atop the Mayacamas Faultline, which means earthquakes on occasion. The blessing, however, is an incredible upheaval of land and thus a myriad of soil types that in turn give us diverse flavor profiles from each block. While our Oliver's Blend is about structured Cabernet Sauvignon on rocky hillsides, our Faultline Vineyard is sourced from the loamy, sandy clay in the basin of Skipstone where our Merlot and Cabernet Franc thrive.
The ultimate wine has an incredible texture and a symphony of flavors – the savory aromas of the Cabernet Franc work in harmony with the ripe, fleshy fruit texture of the Merlot, with a dash of Cabernet Sauvignon blended each year for additional structure and ageworthiness.
The Faultline Vineyard is a classic wine, with decades of aging potential"
VINTAGE NOTES:
"This exquisitely perfumed Faultline Vineyard is exceptionally poised, slightly more "masculine" than previous vintages, and is a harmonious blend that speaks to the site at which it is grown. Best enjoyed 2022-2035. Enjoy now with an hour decant."
52% Cabernet Franc
41% Merlot
5% Cabernet Sauvignon
2% Malbec
ABOUT THIS PRODUCER:
"Skipstone is tucked between two stunning hillsides in the mountains above Alexander Valley. We aspire to perfection in every aspect of our wine growing and estate farming, drawing inspiration from the unparalleled potential and promise of the earth. Uncompromising in our standards of sustainability and treatment of the land, we are committed to nurturing the precious resource that is our 200 acre estate. Blessed by nature, we listen intently to the terroir of our vineyards, and in turn, our wines speak eloquently of their origin."