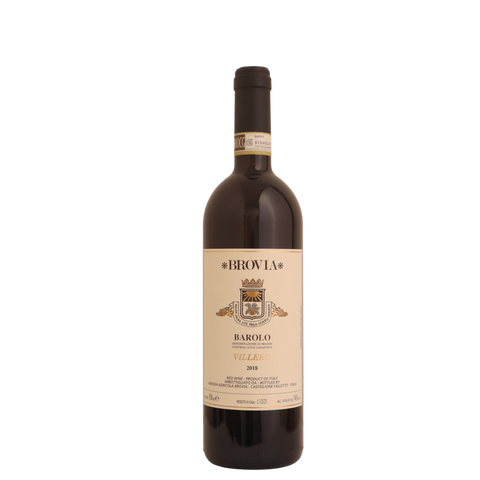 2018 Brovia Barolo "Villero", Piedmont, Italy
Medium-Full bodied and delicious. Aromas of forest berry, new leather, dark spice and camphor. Palate doles out crushed raspberry, licorice, orange zest and mint while bright acidity lends youthful tension.
ABOUT THIS WINE
Some may argue the case but, personally, if we had to pick one of these "cru" Barolo as the "king of kings", our vote would go the "Villero". The package is complete: strong yet elegant, powerful but dignified, above all pure and balanced. No matter the vintage, this special site in Castiglione Falletto yields a consistently marvelous wine that will age with consummate grace. Dark and brooding in its youth, it matures into a regal wine of exceptional depth. For us it is the quintessential Barolo. This 1.5 hectare vineyard faces southwest at an altitude of 340 meters. The vines were planted in 1961. The "Villero" is aged in large French oak "botti" for at least two years after a cuvaison of three weeks or more. Approximately 5500 bottles are produced annually; 1200 bottles plus 60 magnums are bottled exclusively for us for the US market.
ABOUT THIS PRODUCER

In 1863 Giacinto Brovia founded the Brovia estate in the village of Castiglione Falletto, in the heart of the Barolo district. The family has been continually engaged in the growing of grapes and the production of wine since that time. The Brovias, from generation to generation, have been conscientious buyers of some of the finest vineyard sites in this noble zone, concentrating their efforts in their home village of Castiglione Falletto and the neighboring Serralunga d'Alba. Brovia owns land in a variety of the best "cru" of Piedmont such as Rocche, Villero and Garblét Sue, all in Castiglione Falletto, as well as Brea in Serralunga. The Brovia wines are vinified in the classic style. Grapes are lightly crushed before going into the fermentation tanks. The length of the fermentation period depends on the grape variety but the Nebbiolo for various Barolo cuvées can extend as long as a month or more at temperatures between 28 and 30 degrees Celsius. The Baroli are aged for at least two years in 30-hectoliter barrels of Slavonian and French oak. The wines are then bottled without filtration and released to the market after an additional 18 to 24 months of bottle-aging. The cuvées of Dolcetto and Barbera are handled differently, with the Dolcetto being aged exclusively in stainless steel tanks and the Barbera in stainless with a portion of the Serralunga-based wine in smaller barrels (more detail is provided below)., with a portion going into French oak barrels for 9 – 10 months. The wines are bottled without filtration.

The Brovia estate encompasses 19.2 hectares with 55% of the production dedicated to Barolo, 25% in Dolcetto, 10% to Barbera and the remaining 10% produced from Arneis, Nebbiolo d'Alba and Freisa.