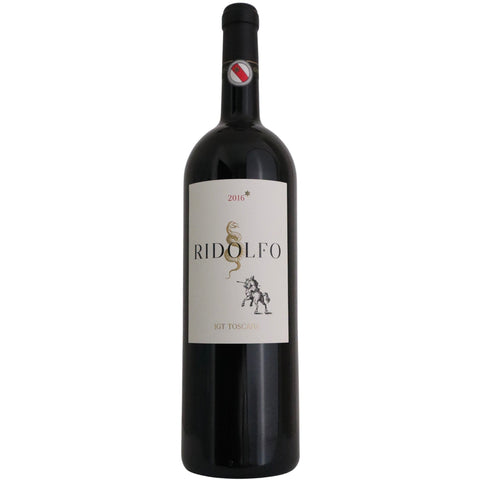 2016 Rocca Di Montegrossi Toscana IGT "Ridolfo", Tuscany, Italy MAGNUM - 1.5L
The Cabernet gives it the silkiness of the tannin and notes on the nose from intriguing and complex aromatic herbs. On the other side, the Pugnitello lends that much rusticity that renders it less aristocratic. At the same time, it makes it more captivating and leaves you wanting to continue discovering it.
ABOUT THIS WINE
On the intuition of Marco Ricasoli Firidolfi, IGT Ridolfo is born from a union of Cabernet Sauvignon (50%) and Pugnitello (50%). Internationality and tradition are perfectly integrated while offering a new key by which to interpret the splendid terroir of Monti in Chianti.
The Cabernet Sauvignon expresses its role at its best, made of refined fruit notes (blackberry, dried plum) and a well-integrated botanical component (eucalyptus). To these accompany the wilder fruit notes (sour cherries) of Pugnitello, and then the spicy notes in perfect balance (pepper, licorice) and light balsam.
A wine of great impression and very complex, with nice acidity.
Wine of character and a strong personality…hard to forget!
ABOUT THIS PRODUCER
Rocca di Montegrossi is located near Monti in Chianti, one of the finest sections of Chianti Classico, about 7 km south of Gaiole in Chianti. The cellars are near the Romanesque church of San Marcellino. Rocca di Montegrossi's owner, Marco Ricasoli-Firidolfi, is descended from a family that played a central role in the history of the Chianti Classico region and laid the foundations for Chianti Classico wine. The estate extends over an area of 100 hectares; 20 are planted to vine, another 20 are olive groves, and the remainder is woodland.