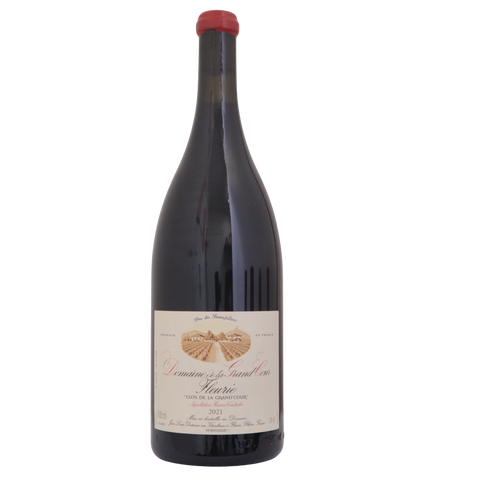 2022 Domaine de la Grand'Cour Fleurie "Clos de la Grand'Cour", Beaujolais, France 1.5L MAG
Fruitier than its old vine counterpart, this flagship Fleurie defines Dutriave terroir and style. Aromas of dark cherry, violets and exotic spices on the nose. Rustic and complex on the palate.
ABOUT THIS WINE

The wine undergoes carbonic maceration for the fermentation and a mixture of different size barrels and cement casks are used for the elevage. It Fis inished wines are unrefined and unfiltered before bottling.

ABOUT THIS PRODUCER

Domaine de la Grand Cour dates back to 1969 when it was purchased by Jean Dutraive, making it one of the oldest in the village of Fleurie. Jean Dutraive was joined by his son and fifth generation vigneron Jean-Louis in 1977. By 1989, the reins were fully in Jean-Louis's capable hands. The foundation of the property are the lieux-dits of Clos de la Grand Cour, Chapelle des Bois and Champagne which make up a total of 9 hectares of vines in Fleurie, surrounding the house and cellars. Additionally, the family has 1.6 hectares in the cru of Brouilly where the Dutraive family originates. The average age of the vines are around 40-50 years, with a good chunk over 70 years of age.
Jean-Louis is a devout practitioner of organic viticulture with the property certified by ECOCERT since 2009. Jean-Louis, however, was practicing organic viniculture many years before that. Harvest is done by hand and grapes are immediately placed in tank at low temperatures to begin carbonic maceration (without sulfur). The wines ferment naturally with indigenous yeast and are macerated on the skins for anywhere from 15-30 days depending on the vintage and the particular wine. The wines are then gravity fed to the cellar for a period of ageing of 6-15 months, depending on the cuvée. Elevage occurs mostly in used burgundy barrels, though the Fleurie Grand'Cour, Fleurie Chapelle des Bois and Brouilly are sometimes aged at least partially in old foudres or cement tanks depending on the vintage. S02 is rarely added during the élévage, only when necessary, though a small amount is added when the wines are racked and assembled for bottling. And in general, no fining and filtration is used unless absolutely required. In the words of Jean-Louis, he practices "low intervention, high surveillance" winemaking.
The Dutraive lineup includes some of the most aromatically and texturally unique wines in all of Beaujolais. One whiff and the wines give an almost exotic floral and spicy aroma, followed by lush minerally Gamay fruit, sort of like a top Morey St. Denis 1er or Grand Cru nose combined with earthy, Volnay-like fruit. There is also a textural lushness and exuberance backed up by ample structure and acid. These are substantial Beaujolais, and ones that could certainly stand up to food. They also have the requisite material to develop and evolve over the medium term, i.e. 10-12 years of aging - easily! Jean-Louis and his Domaine de la Grand'Cour wines have more than earned their place in the top ranks of today's Beaujolais domaines.